Portability is a popular request for operators seeking a versatile, multi-purpose pump. Global Pumps outline the different options for portable chemical transfer pumps, with each option suitable for the harshest of chemical applications.
In this blog, our team discusses the different types of portable chemical transfer pumps, and how you can get the most out of your pumps with accessories and upgrades…

Chemical transfer pumps
Chemical pumps are critical in transferring dangerous chemicals and liquids from one place to another. Depending on the application, there are a wide variety of chemical transfer pumps available, with slightly different features, characteristics or materials of construction. Most of these pumps also offer leak-free operation which guarantees the integrity of your site and the safety of your pump operators.
It's important to note that when transferring chemicals, chemical compatibility is important to ensure the pump can withstand the nature of the liquid. You can use Global Pumps' free chemical compatibility chart to help you determine the most suitable material for your pump.
Types of portable chemical transfer pumps
There are a wide variety of portable chemical transfer pumps available to suit the toughest of chemicals, including drum pumps, peristaltic hose pumps, air operated diaphragm pumps and magnetic drive pumps.
Drum Pumps
Drum Pumps are a portable chemical transfer pump option, ideal when you require intermittent operation. As the name would suggest, drum pumps are suitable for transfer to and from drums, including 20L, 200L and IBCs. Varying tube sizes allow for customisation depending on what your application demands.
Drum pumps are available in various motor types, including manual, pneumatic or electric. Each one is suitable for different types of chemicals. Electric-driven drum pumps are available with IECex/flame-proof certification to ensure safe transfer from drums. There are also a variety of drum pump tubes suitable for different chemicals.
Global Pumps' handy Drum Pump Selector can assist you in the selection process and advise of the most suitable chemical transfer pump for your application.
Peristaltic Hose Pumps
Hose and tube pumps are ideal for sand and other slurries with a high amount of particulate matter, viscous fluids or corrosive and abrasive liquids. They are also commonly installed in applications that demand accurate and repeatable dosing - particularly the chemical or laboratory industries.
Peristaltic hose pumps are a popular choice for chemical transfer pumps given their durability, reliability and suitability for handling dangerous chemicals.
In some applications, peristaltic hose pumps are installed on trolleys to allow for portability across operations. Trolleys are constructed in stainless steel to withstand the nature of chemical transfer pumping. Where trolleys are not possible, or the pump is too large, Peristaltic Hose Pumps can be installed on a skid that has fork-lift pockets.
Varying hoses are available for these peristaltic hose pumps to ensure suitability for whatever dangerous chemical is being pumped.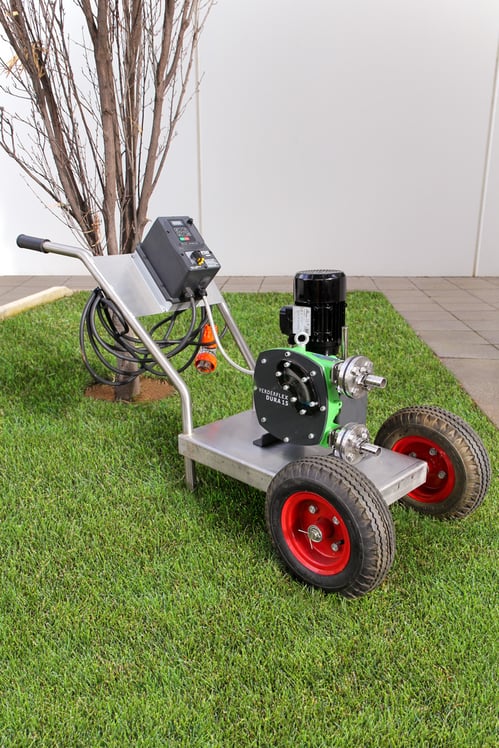 Air Operated Diaphragm Pumps (AOD)
AOD pumps offer leak-free operation with variable flow and discharge pressures - which allow operators to control the pump's output depending on the application. Available in varying materials of construction, AOD pumps are a popular option for those chemicals that demand safe pumping measures.
Besides their leak-free operation, AOD pumps can run dry without any damage and are capable of self-priming from a dry start.
As the name would suggest, AOD pumps are driven by a compressed-air motor and allow for installation where electricity is not available, or where sparks are too dangerous.
When mounted to a trolley or a roll-frame, AOD pumps provide a safe, portable chemical transfer pump option.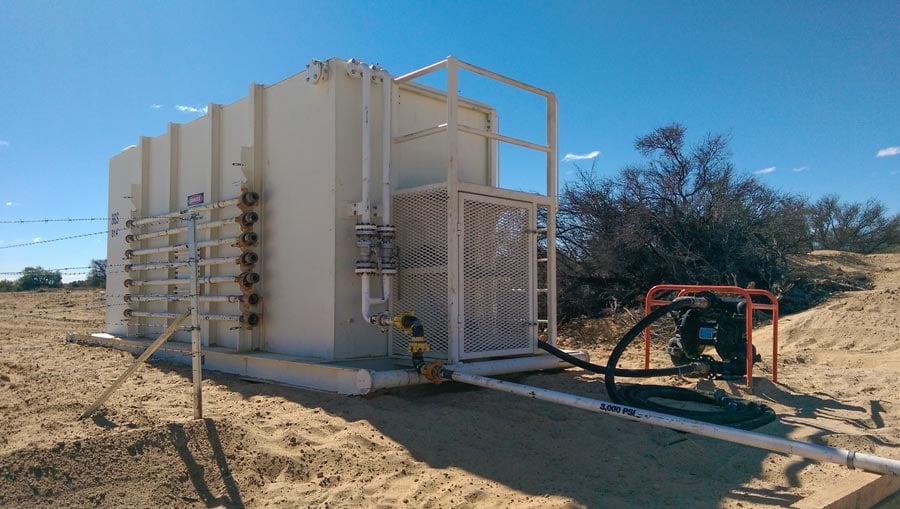 Above: Verderair Air Operated Diaphragm Pump mounted to a roll-frame.
Magnetic Drive Pump
Mag-drive pumps are a leak-free centrifugal pump, suitable for corrosive or hazard chemical transfer, including those dirty, aggressive, solids-laden liquids. As with AOD pumps, mag-drive pumps offer leak-free operation thanks to their seal-less design.
Besides leak-free operation, magnetic drive pumps are constructed from non-metallic wetted parts and heavy duty construction offering outstanding corrosion resistance and the ability to handle contaminated liquids and solids.
If choosing to mount a magnetic drive pump to a trolley or skid, consider the materials of the trolley to ensure it will withstand the nature of the environment.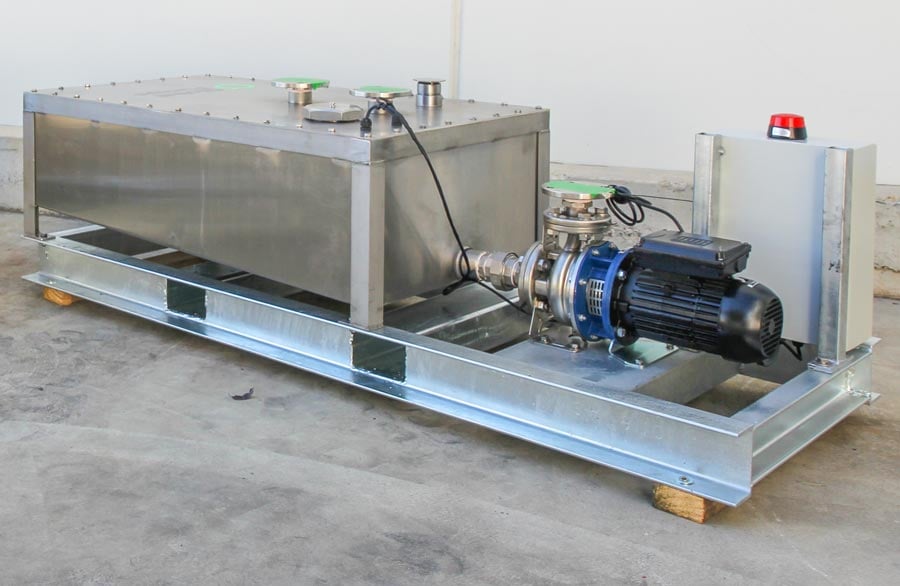 Above: Chemical Pump fixed to a tank, mounted to a skid with an electrical control panel.
Need help selecting a portable chemical transfer pump?
Get in touch with Global Pumps today! Our team understands that not every pumping application is the same, and some may need unique solutions. With over forty years' experience working with the chemical industry, we can share best practice and expertise.