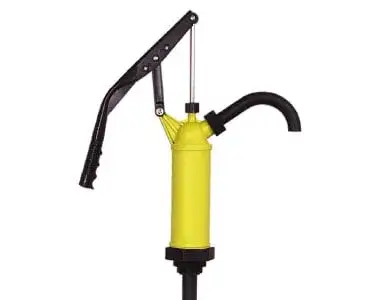 The TP-02 is suitable for pumping oils, diesels, alcohol up to a maximum of 50%, anti-freezing liquid, water plus water-based chemicals and alkalis. It is constructed in polypropylene, with a stainless steel 316 shaft.
It offers a telescopic suction tube which has a length of 340–900 mm. This drum pump tube is step-less adjustable and has a tube Ø of 40 mm.
This drum pump achieves a flow rate of 0.3, 0.37 or 0.45 L/stroke depending on lever position.
Specifications for the TP-02:
polypropylene pump material
stainless steel 304 shaft
FKM seals
pump tube length: 340–900 mm
pump tube diameter: max. 40 mm
thread adapter: G 2″ and G 1½"