Mine and quarry sites demand reliable and durable pumps to meet the harsh nature of slurry. When a pump is not fit-for-purpose, it can cause downtime and significant loss of production. Therefore, it's crucial that the slurry pumps on your site are suitable for the tough challenge on hand.

As part of our SlurryPro Series, Global Pumps are sharing curated content on the mining and quarrying industry and the struggles of finding the right pump for each tough challenge. In this blog, our team share their top tips when selecting a slurry pump for clients:


What is slurry?
Let's start with the basics. Slurry is the term given to a mixture of liquid and solids. There are two types of slurries: non-settling and settling. Non-settling slurries are made up of fine particles, which remain in suspension when the applied energy ceases (i.e. when the pumping stops). Settling slurries contain solids whose particles settle-out when the energy ceases.


A slurry's properties
When selecting a slurry pump, understanding the type of slurry is crucial. Slurries with particles less than 200 microns (0.2 mm) are expected to be non-settling slurries, whilst those with larger particle sizes are more commonly settling slurries. As the size of particles increases, so does the difficulty in pumping the slurry.
During the selection process it is important that the following slurry properties are considered:
Abrasive hardness
Particle shape
Particle size
Concentration of solids by weight
Temperature of slurry
Corrosive nature of carrier fluid/slurry


Selecting your slurry pump
Besides the slurry, it is critical that you understand the capabilities of the whole pumping system you are considering. These elements include, but are not limited to:

Piping design: The design of the pumping system incorporates not only the pump and motor, but the pipework and valving. There is no easy way to use the calculation methods that accurately predict friction head loss for settling slurry flows in a pipe. Therefore, if your pipework is more than 500m in length, Global Pumps suggest doing test work to determine the head loss and velocity required. If you are only dealing with "in plant" piping (which typically involves piping runs of a few hundred metres maximum), then you can use some approximate relationships of "rules of thumb" that have been industry accepted for many years and lead to reasonable solutions. In most instances, your pump supplier will provide input with the piping design.

Motor sizing: As every slurry is different and can evolve other time, Global Pumps suggest sizing your motor with a safety factor of 1.15 to 1.20. This safety margin allows for discrepancies in a slurry's attributes, as well as the systems deviations.

Specific gravity: The ratio of the density of the slurry mixture to that of water.

Static head: The vertical distance between the liquid level in the pump supply vessel to the point of delivery.

Friction loss: As the liquid starts to flow through the pipework and valves, the slurry is subjected to friction. As you pump slurry, friction losses caused by pipe roughness, bends and valves are different compared to pumping water.

Settling velocity: The velocity reached by a particle as it falls through the fluid. This depends on the size, shape and difference between its specific gravity and the settling medium.

Pump curves for your slurry pump: The pump curves published by pump manufacturers are based on the performance of the pump on water. In order to select a pump for slurry pumping, selectors commonly use a derating factor to correct the head and efficiency of the pump. Therefore, if your selecting a slurry pump yourself, it's important to consider this derating technique to ensure the pump and motor are sized correctly.



Operational limits
Due to the nature of slurry pumping, there are a few considerations to be aware of when considering pump types:
Centrifugal slurry pumps are a good allrounder for almost all slurry types and applications, however some limitations include:
If the slurry concentration is above 60-65%, it will not react well to centrifugal force
If pressure requirement exceeds 100m head
If you have a low-flow, high head application - a centrifugal pump becomes inefficient and excessive wear can be experienced.
As a centrifugal slurry pump cannot self-prime
Helical rotor pumps' ideal application is for use on flocculants and other viscous reagents but can often be used in slurry applications. Although they can be cost-effective initially, they do cost more in the long-run due to:
Interference fit between the rotor and the stator has the tendency to trap solids which leads to premature failure
Having more moving replacement parts and rebuilds generally equate to 50% of the initial cost
Taking longer to rebuild and often can't be done in situ, leading to higher maintenance expenditure
Peristaltic hose pumps are ideal for abrasive applications, as they do not wear from abrasion but from fatigue. They are usually selected when the slurry concentration is above 60-65% and flow rate is less than the effective operating range of a centrifugal slurry pump. Peristaltic Hose Pumps are:
Capable of self-priming
Able to dry run
Have only one wearing part, so maintenance is quick, in situ and typically only 10% of the initial cost
Capable of pressures over 10 bar.
If you are considering a centrifugal pump or positive displacement, consider a variable speed drive. These are recommended when you need to change the output depending on the slurry properties and demand, or to compensate for wear.


Lifetime costs of the pump
If your application is suitable for a variety of pump types, a decision should rest on the ongoing lifetime costs associated. Considerations should be made for the following:
Energy consumption
Maintenance and repairs
Downtime
Operating expenses
Environmental impact
The most important considerations should be energy consumption and maintenance & repairs. Is the pump energy efficient? Most importantly, do you have access to the manufacturer for spares/repairs/requests?


Global Pumps' answer to slurry pumping
SlurryPro originated from a firm belief that your slurry pump experience could and should be better. In response to industry feedback and frustration with service and response times, SlurryPro has introduced a customer-centric focus and revolutionised the end-user experience. Global Pumps is committed to providing a slurry pump which focuses on superior wear life and reduced lifetime costs.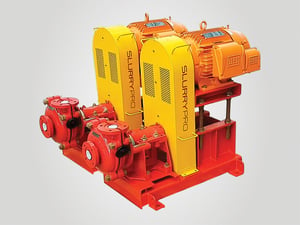 The range of SlurryPro pumps includes horizontal and vertical centrifugal slurry pumps, all designed for use in the heaviest duty applications such as mill discharge, process plants and tailings applications. We understand that reducing downtime relies on rapid and cost-effective parts availability. In a market where it is normal to wait several weeks for spares, Global Pumps aims to despatch within 24 - 48 hours.

If you're looking for a better slurry pumping experience, including superior wear life, reduced lifetime cost and ease of ongoing maintenance there is quite simply, no alternative to SlurryPro.
Or want to discuss your slurry pumping needs with our Global Pumps' team? With a committed Projects team, Global Pumps can offer personalised service, turn-key pumping solutions and slurry pumps to suit any site's tough challenge. Get in touch today!