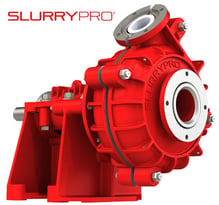 Slurrypro centrifugal slurry pumps are especially effective for mining applications, since they were designed with the mining industry in mind.
High flow rates, combined with heavy duty construction and unique features which allow the pumps to run cool and consistently with minimal wear make the SlurryPro pumps a choice tool for many mining applications.
Engineered design improvements ensure that Slurrypro pumps continue running long after conventional designs have given up. Innovative features allow the pumps to run cooler, improving operating efficiencies and greatly reduce down-time failures. A unique bearing housing design and modular "no fuss" sealing system, liner and wear part options, make for a pump that really suits your application.
Download the Slurrypro brochure
Contact us to find out how Slurrypro can benefit your business.