When it comes to brewing beers, or distilling the perfect spirit, there are a wide range of pumping and mixing solutions suitable. It is crucial that all equipment and machinery have achieved hygienic compliance, are energy efficient and gentle on the product.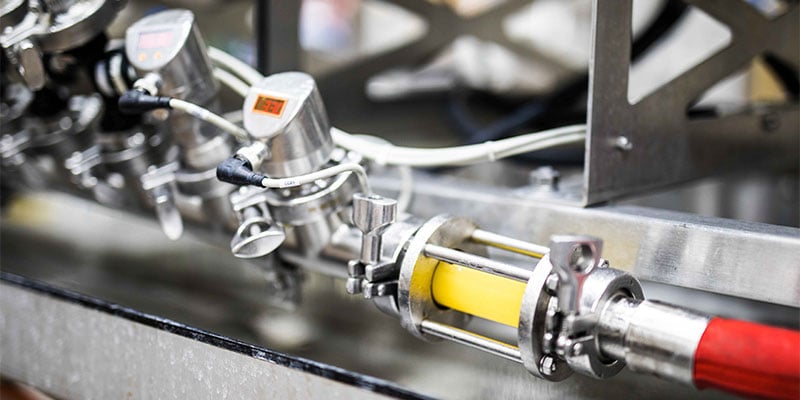 Handling yeast, mash and wort
In the brewing process, it is crucial that the pumps can handle difficult fluids like yeast, mash and wort. These require gentle handling and are abrasive and viscous in nature and require a pump that offers moderate pumping action. To achieve this, Global Pumps suggest a peristaltic hose pump. Particularly, the Verderflex range of hose pumps are an excellent solution for the gentle handling of yeast solutions, and solid-laden slurry.
Global Pumps worked with Brisbane brewer Range Brewing to solve their tough yeast challenge. The team were after a system that would safely harvest the yeast from production during the fermentation process. They sought to capture as much during this process to allow for re-use in subsequent brews. After consulting Global Pumps, the peristaltic hose pump was installed. This pump provides a gentle, low-shearing pumping action, suitable for viscous fluid handling and hygienic for the food and beverage industry.
The range of Verderflex peristaltic hose pumps are the ideal pumping solution for handling flowable slurry like malt, yeast, mash and wort.
Transferring and pumping alcohol or chemicals
When it comes to transferring or pumping alcohol or other chemical agents, it is crucial you have explosion-proof pumps.
The range of Verderair air operated diaphragm pumps are designed for robust handling of multiple fluid types. For multiple applications and ease of transportation, the pump can be trolley mounted. In order to comply with food regulations, these pumps are available in hygienic materials, such as stainless steel.
Inoxpa hygienic pumps are a common feature in food and beverage industries due to their construction. In order to comply with food regulations, these pumps are available in hygienic materials such as stainless steel.
If you are pumping chemicals, you may also consider a Techniflo Magnetic Drive Pump, these are leak-free thanks to the absence of mechanical seals. They offer assurance that dangerous chemicals are not at risk of harming employees and are safely transferred.
Feeding and transferring product slurry
The removal of food waste can cause great difficulties for businesses and can cost significant amounts. It's important you invest in a pumping system that can feed product slurry into a system and transfer for disposal.
Screw centrifugal pumps are constructed to reduce clogging frequencies and lower blockage costs. The low shearing pumping action reduces the wear from abrasive liquids and damage to sensitive polymer chains. The Verderhus Screw Centrifugal Pump has been successfully implemented in the beer and food production industry and has reduced the costs associated with blockages and downtime.
For more information on the pumps that are suitable for the beverage industry, or to chat to an expert about your specific application, get in touch with Global Pumps. Our team have over forty years' experience solving touch challenges in the food and beverage industry. We have worked with breweries, distillers and wineries and offered a wide variety of pumping systems.
Global Pumps are committed to assisting new and existing customers with application-based queries and servicing and parts requests. To further support clients, we are offering free digital 'site visits', which allow our team to chat to you about any concerns or questions and see the pump in action. Book a time now!