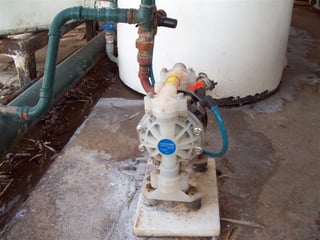 Air diaphragm pumps are positive displacement pumps that are typically used for the applications of transferring or dosing. Companies across all industries have seen the benefits of this type of pump mechanism, including oil companies, mining companies, food processors, beverage corporations, pharmaceutical companies, construction operations and more.
If your business fits one of these descriptions and you think you need an air operated diaphragm pump for your operations, then Global Pumps can help. We first established our company in 1977, seeing a void in the market for a customer service oriented pumps supplier in Australia. Almost 40 years later, we are still specialising in pumps with a unique focus on superior customer service. If your business needs an air diaphragm pump, but you aren't sure how to start shopping for one, we are the right company to lend a hand.
Five Questions to Answer about Your Air Operated Diaphragm Pump Needs
Before you pick up the phone to call Global Pumps asking for advice about air diaphragm pumps, it's a good idea to answer five questions. If you have already prepared answers to these frequently asked diaphragm pump questions when you call, we will be better equipped to steer you in the right direction.
What type of fluid do you need to pump? Perhaps the most important question is what type of fluid you will be pumping with your diaphragm pump. A situation where you are pumping chemicals or corrosive materials might demand a different pump than a simple application.
What is the viscosity of the material you need to move? Water is of low viscosity while oil has a higher viscosity. Some air operated diaphragms can pump viscous fluids without issue, but higher viscosity tends to demand higher powered pumping equipment.
What is the temperature of the fluid being moved? Extremely high-temperature fluids might require a specialised air diaphragm pump to avoid damage. If you will be pumping exceptionally cold or hot fluids, let Global Pumps know so we can consider your situation.
What is the flowrate required? The volume of fluid required for your process, along with the speed of the process, will affect flow rate. Larger operations are typically more likely to have higher flow rate requirements, which in turn necessitate larger air diaphragm pumps. Try to measure or estimate your required flow rate so that Global Pumps can help you choose the right pump size.
What pressure conditions does your need your pump need to handle? Just like with flow rate, air operated diaphragm pumps have a maximum pressure limit. Try to measure or estimate your pressure requirements before you start shopping at Global Pumps.
Browse our Air Diaphragm Pumps Now
Click here if you would like to see a brief info sheet covering the air operated diaphragm pumps we sell at Global Pumps. As you will see, our pumps come in metallic and non-metallic designs and have all different port sizes, flow rate limits and pressure limits. Please call us on 08 8275 8000 if you need more information or want help choosing the right pump.