In response to the recent COVID-19 pandemic, and due to the shortage of hand sanitiser, some of Australia's leading distillers are filling the void.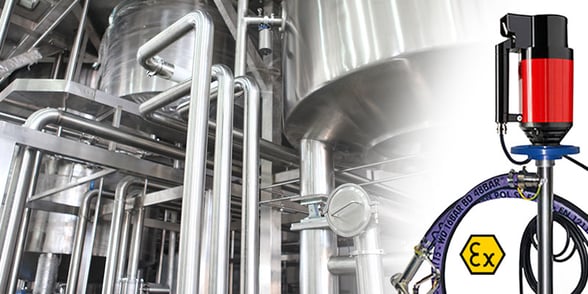 Above: Drum pumps are a common option for distillers and wineries pumping hand sanitiser.
Distillers are now using their in-house tools to manufacture and distribute hand sanitiser to the masses. As the government reduces the stringent regulations around the manufacture of hand sanitiser, more and more businesses can now make the product and meet the rising demand.
What equipment would Distillers use to produce hand sanitiser?
Given that the production process of hand sanitiser is not far off gin or other alcohols, businesses are finding it easy to transition. It's suggested that you simply continue the normal distillation process and go to a neutral spirit at 96 percent ABV, and blend back down with glycerine, peroxide and water. Get this mixture to above-80 percent ABV, stir it and disperse to bottles. The active ingredient used in the process is ethanol.
The following pumping equipment is being utilised by distillers:
Drum Pumps are a versatile pump and are appropriate for multiple applications, including transferring. There are a wide variety of drum pumps available, all are lightweight, easy to use and come in electric, pneumatic and hand operated models. Compressed air motors provide a particularly high level of safety when pumping flammable liquids of various danger classes. Depending on the business' capabilities or capacity to which sanitiser is being produced will determine the type of drum pump selected. The Techniflo range of pumps from Global Pumps are appropriate for pumping ethanol and alcohol liquids.
Air Operated Diaphragm Pumps are commonly used in food and beverage industries and have now become a common feature in these hand sanitiser production lines. Their rugged construction and self-priming, dry running capabilities make them easy to use and maintain. AOD pumps are suitable for pumping a variety of chemicals including flammable liquids, drum decanting and general transfer. They can handle smaller solids and run-dry for shorter periods, which make them idea for transferring ethanol from containers.
Peristaltic Hose Pumps are capable of accurate and repeatable dosing, ideal for pumping sanitiser into bottles or other containers. The range of Verderflex pumps are designed with energy efficiency in mind and are available with chemically resistant flange connections to ensure they are tough and durable for any pumping application.
For more information on how to pump ethanol, check out this blog.
To chat to a Global Pumps expert about our range of pumps, pump parts or spares, contact our team on 1300 1 GLOBAL (45 622) or email us sales@globalpumps.com.au. We have a wide range of pumps available for immediate despatch, so give our team a call to see which pump you need for your application!