The Global Pumps team have worked with chemical manufacturers for over forty-years, providing safe and reliable pumping solutions. One of the most crucial considerations when handling chemicals, is ensuring safety measures are met. Particularly when it comes to flammable liquids.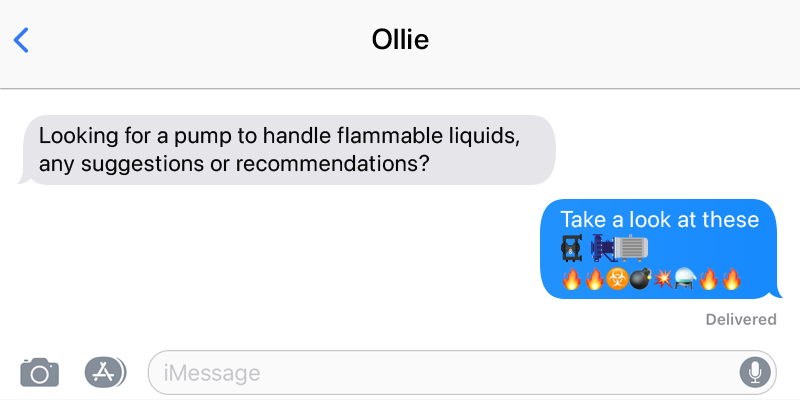 This week, we spoke with Amos to find out everything you need to know about pumping flammable liquids. Amos has worked with Global Pumps for over 10 years, consulting customers across multiple industries, advising of best practice and providing reliable pumping solutions.
Check out the interview, and take note when you're next pumping flammable liquids…
Q: What materials of construction should be considered when selecting a pump for flammable liquids?
Amos: Usually, when pumping flammable liquid, we select a metallic pump that is grounded. Plastic is also suitable, such as conductive polypropylene. Conductive polypropylene is created using special types of carbon, which ensures electrical resistant is much lower, and can make the pump conductive so it can be grounded.
What does 'grounding' a pump mean? Grounding, also called earthing, provides an additional path for electrical current to return safely to the ground, without danger to anyone in the event of a short circuit.
If you are pumping flammable liquids, earthing your pump will avoid any build up of static electricity.
Q: What motor do you suggest for pumping flammable liquids?
Amos: Any motor advised for a flammable liquid pump needs to be fitted in Australia - to ensure the motor meets the Australian standards, IECex (or ATEX). These Australian Standards only apply to electric-driven motors. Most air-driven motors are EX-rated already and can be used for pumping flammable liquids.
How do I know my motor is suitable for pumping flammable liquids? When you purchase your pumping system, if the motor is compliant with IECex or ATEX, it will come with a certification from the manufacturer.
You Pump Selector should ensure that the motor is suitable at the time of selection, but it is always worthwhile asking for certification proof.
Q: How do operators avoid leaks?
Amos: During the pump selection process, it is critical that the seals and other components are compatible with the liquid being pumped. This will avoid leakage. If these components are not compatible, the seals could perish, or could build up static electricity.
How do I check chemical compatibility? Global Pumps have a useful chemical compatibility tool that can advise of compatible materials for each chemical. If the chemical is not listed, get in touch with your Pump Selector, or Global Pumps.
Q: How do I ensure my staff are safe while pumping flammable liquids?
Amos: It is imperative that the pump operator, as well as all pump components including the motor, inlet and discharge piping, holding tank and receiving tank are grounded. Besides this, ensure the operator is properly protected from any potential leakage or spills.
Check with industry-specific resources and guidelines as well.
Q: What sort of pumps are suitable for flammable liquids?
Amos: There are a wide range of pumps available, that are not only purpose-built for handling dangerous chemicals, but are safe and easy to use.
These include:
Magnetic drive pumps. These are a popular choice for flammable liquids, as there is no mechanical seal or packing gland, which offers zero chance of leakage.
Air operated diaphragm pumps. AOD pumps are available in metals or injection-moulded plastics, such as polypropylene or PVDF. As the names suggest they are air-driven, so are a safe option for flammable liquids.
Drum pumps. These pumps are available in either electric and air-driven motors or hand operated. All motors are available with grounded equipment to ensure safety for the operator and the environment. The varying tube materials allow for multiple uses - including specialised material for flammable liquids.
Stainless-steel centrifugal pumps. Corrosion resistant stainless-steel offers operators a pump system that is safe to use for highly flammable liquids providing enhanced durability and safety.
Want to chat to Amos to discuss your flammable liquid pumping application? Global Pumps specialised selection team are available to your chemical pumping needs, as well as advise of best practice, to ensure you're operating effectively and efficiently. Get in touch with our team today!