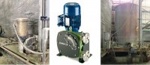 A copper mining operation faced challenges with the progressive cavity pumps it used to dose copper sulphate into thickeners, where it helps to separate usable metal from stone.
The progressive cavity pumps required constant monitoring after just a short time in service. The reason? The pump's internal metal components were susceptible to the aggressive chemical reactivity of the copper sulphate as well as mechanical degradation due to abrasion. As the wear continued, the flow rate changed, and this required adjustment of the speed of the pump to reestablish the required flow rate. Management realised that constant attention to these pumps by operators was not an efficient use of personnel time and that the dosing was not efficient due to the flow rate changes.
The pumps were replaced with Verderflex Dura 15 hose pumps. Hose pumps have only a single wearing part – the hose. The hose is designed to be abrasion and chemical resistant and best of all, in a plant that runs 24/7, where downtime equals lost revenue, the hose is easily and quickly replaced. As a result of the exchange from the progressive cavity pumps to the Verderflex Dura hose pumps, the problem was solved.