Verderflex offer a wide variety of quality, reliable peristaltic hose pumps. These pumps offer the ideal solution for difficult to pump liquids, abrasive, viscous or solids laden slurries, dosing chemicals and gentle transferring of fragile cell cultures.
In their latest release, Verderflex have extended their Dura series. Read on to learn more…

What is the Verderflex Dura series?
The Verderflex Dura series is the first real advancement in hose pump technology since the development of the high-pressure hose pump. The Dura combines the best of a close coupled pump's compactness with the traditional long coupled pump's benefits.
The new Dura 65…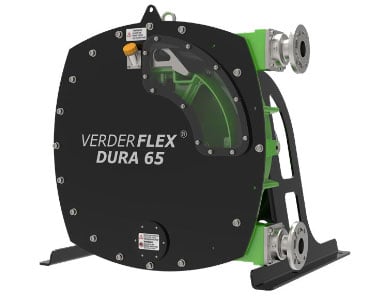 Verderflex has released the latest, and largest Dura peristatic hose pump, the Dura 65. This hose pump leads the market achieving a maximum flow rate of 33,000 L/hr and pressures of up to 16 bar.
The Dura 65 offers operators self-priming and dry running capabilities. Its low shear design makes it ideal for pumping abrasive or solid-laden slurries.
New to the Dura series, the 65 offers minimised downtime and reduced overall cost of ownership thanks to the in-situ hose change and simplified spare holding requirement.
Other key features of the Verderflex Dura 65:
four different gear box sizes available
maximum pump speed, 80 RPM
maximum temperature of medium, 100oC* (depending on lubricant used and hose of the pump)
maximum incompressible solid size, 6.55mm
maximum compressible solid size, 16.25mm
optional FDA CFR21, EC/1935 and ATEX
There are a wide range of hose options to suit a variety of applications, including those that demand hygienic practices. These include, Natural Rubber (NR), Nitrile Buna Rubber (NBR), Ethylene Propylene Diene Monomer (EPDM), Food Grade Nitrile Buna (NBRF), and Hypalon® (CSM).
In applications where the Verderflex VF 65 Peristaltic Hose Pump has been installed, the Dura 65 can be directly reinstated. The Dura 65 has been constructed to be an alternative for the VF 65, with the inlet and discharge at the exact same height.
Discover the entire Verderflex range…
Global Pumps offers the entire Verderflex range of Peristaltic Hose and Tube pumps! Chat to one of our team members to discuss your application and learn about which Verderflex solution is right for you…