The Verderflex hoses are renowned for their durability and reliability in a wide variety of markets. But what are the unique features of these hoses that make them superior? What is it that offers a greater hose life for users?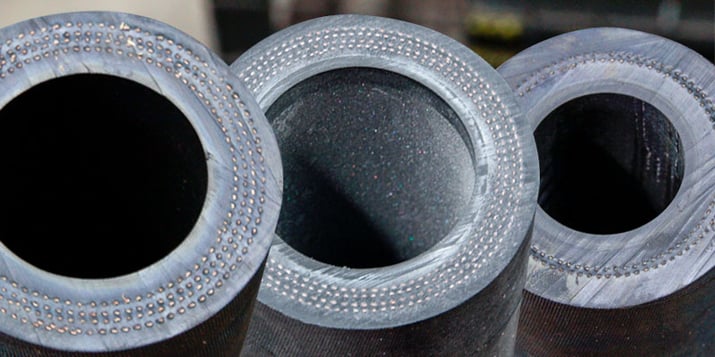 Our Global Pumps team share the unique elements that make up the diverse range of Verderflex hoses...
1. Advanced hose construction
There are multiple reasons for hoses to fail, but fatigue, or loss of re-enforcement fibres elasticity is a common attribute for failure. Generally, after several million cycles, a hose will fail to restitute (or return to being round after being compressed). Pre-failure can also occur, which involves a gradual reduction in flow per revolution. Therefore, in order to have the best hose life, the construction of the hose is crucial.
Verderflex's range of hoses includes 3x more nylon reinforcing fibres on a diameter than other leading brands. By optimising the number of reinforcing fibres, the load is distributed over a greater number of elements - reducing the stress per fibre and extending the fatigue life.


2. Better lubricant distribution for better hose cooling
Some hoses require additional machining for consistent outer diameter and wall thickness. The Verderflex production process is incredibly precise, offering controlled and exact wall thickness and outer diameter tolerances. These elements are maintained at each point along the length of every hose.
The Verderflex hose retains a textured surface, which creates micro-pockets of lubricant and capillary action. This results in superior lubrication distribution and better hose cooling resulting in a longer hose life.

3. Permanent colour coded material identifier
Due to the precise manufacturing production control, all hoses are colour-coded with size and material identification tape. These clear colours eliminate installation errors.

4. Designed for purpose
Verderflex EPDM hoses are made with 100% EPDM. Using a homogeneous EPDM hose allows a higher temperature capability, no liner mechanical weak point and a substantially more chemically resistant material.

For more information on the Verderflex range of hoses, or to chat to an expert about which hose is right for your application, get in touch with Global Pumps. Our team of experts can advise of best practice, so you end up with the perfect hose for your tough challenge.