The Global Pumps' team have worked in multiple industries, including food and beverage. As Australia has 65 unique wine regions on our doorstep, it's no surprise we know a thing-or-two about wine and pumping wine. Our dedicated wine team work closely with wineries across the country, sourcing and supplying top quality, fit-for-purpose wine pumps.
In the lead up to next vintage in February, we sat down with the team to better understand how to pump wine…
Q: What should be considered when pumping wine?
Wine Team: Depending on which process the winery is up to, I always suggest a pump that is very gentle to the wine. You do not want it tossing around and creating bubbles inside the pump and on discharge. Ideally, you want a pump that will handle and transfer the wine gently. All processes such as mixing, agitating and circulating should be handled this way.


Q: What characteristics are unique to wine pumps?
Wine Team: Wine pumps are constructed with hygienic materials and can operate gently.
When advising of a wine pump, I suggest lobe pumps instead of centrifugal impeller pumps, particularly during the final stages of wine making and transferring from tank to tank. Lobe pumps offer the characteristics required for effectively and gently pumping wine.


Q: How do I select an ideal pump for my winery? Do I need an expert to do so, or can I narrow it down myself?
Wine Team: If you are selecting a pump for general wine transfer, you will need the flow rate, how far the wine needs to be pumped, and if you are going into the top of the holding tank, how tall the tank is. Also consider the following:
If using stainless steel pipes or hoses to transfer - what size would they be?
If pumping must, the solids need to be clarified along with any additives within the must.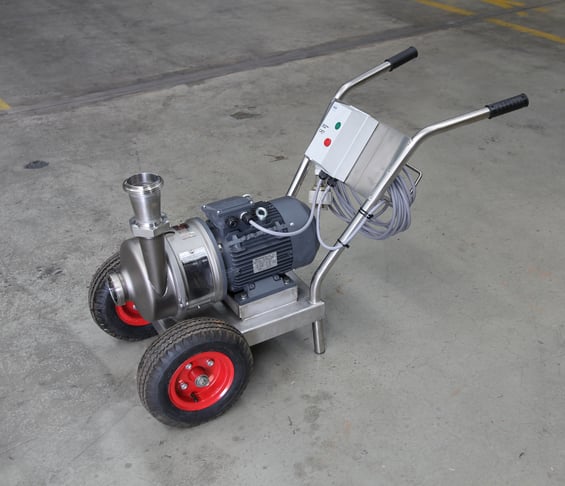 Above: Stainless steel Inoxpa Pump mounted on a trolley with a pump starter

Q: Are there any requirements to pumping wine that I need to be aware of?
Wine Team: It is crucial that wine is pumped using hygienic, food grade materials.

Q: Can I accessorise my wine pump to suit my application?
Wine Team: Yes! A trolley is a common accessory. This allows the winery to be able to move and utilise the same pump across facilities for the same type of application.
Variable Speed Drives are also common within wineries - this allows you to gently pump the wine at first and then speed it up to move the wine faster when required.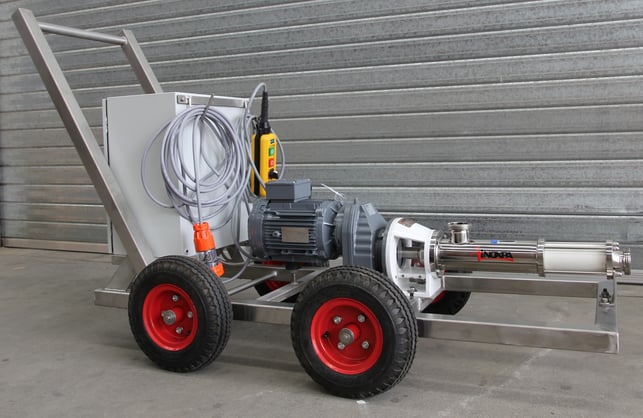 Above: A wine pump has been mounted to a trolley for easy transportation
If you would like to chat with our Wine Team about the upcoming vintage season, or are looking to invest in new wine pumps, get in touch. You can discover the different types of wine pumps available here.
Beat the rush and start thinking about vintage today!