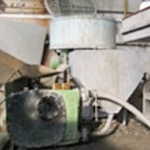 What is fibreglass concrete and why use Verderflex peristaltic pumps for it?
Fibreglass concrete was first invented by the Research Institute for Building Materials in the Czech Republic, after researchers wanted to create a concrete blend that worked specifically with various applications such as motorway sound screens. What they created is quite an economical blend, being both cheaper and lighter than common metals and cast iron.
Even with this advantage, fibreglass concrete still remains as an abrasive, viscous, and altogether difficult material to mix, and as such can cause a lot of issues. Common problems people can encounter when using centrifugal, diaphragm, or other similar pumps include blockages, impaired functioning, floating, and even complete stoppages.
Luckily there is a solution, and it comes in the form of Verderflex peristaltic pumps.

Why use Verderflex peristaltic pumps?
Verderflex specialises in manufacturing peristaltic hose pumps that can handle a lot more than your average pump. With a focus on viscosity and abrasive material, they are able to meet the demands of concrete fibreglass pumping in a much more competent way.

This is due to:
The advanced lifespan of the Verderflex peristaltic pump hose, in comparison to other pumps of its kind
Its ability to handle viscous liquids with no difficulty
The hose design being specifically tailored to pump abrasive materials
The economic and efficient design of Verderflex pumps
Request a quote from Global Pumps today and discover how affordable these premium fibreglass-concrete mixing pump solutions from Verderflex can be!