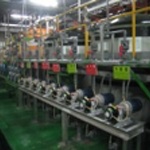 Three reasons why a manufacturer replaced metering pumps with the Verderflex Rapide tube pumps.
A leading electronics manufacturer has been using metering pumps to dose aluminium sulphate into its wastewater. Recently, it sought to replace its existing pumps for several reasons. First, they did not perform consistently when aluminium sulphate levels in the tank were low. In addition, they were complicated to maintain and were subject to unscheduled downtime for repairs. Finally, the service and repairs were costly. In consultation with a pump manufacturer, Verderflex, the customer decided to replace the existing metering pumps with Verderflex Rapide R2S peristaltic tube pumps. These pumps can maintain consistent flow rates from only 78 ml/min to over 1080 ml/min at a discharge pressure of up to 1.5 bar regardless of the level of the aluminium sulphate in the storage tank.
After pump replacement the customer enjoys consistent maintenance intervals, which have increased from 600 hours, prior to pump replacement, to approximately 1000 hours. This increase translates into reduced downtime for maintenance and significantly reduced maintenance costs.
The customer is completely satisfied with the operation of the Verderflex Rapide R2S pumps, including the ease with which the tube can be replaced using the ski-boot type clamp found on the Rapide R2S, compared with the complicated process used previously.
Ease of use and maintenance, reduced downtime, reduced cost and consistent results all contributed to this customer's decision to replace the previous metering pumps with the Verderflex Rapide R2S peristaltic pumps.
Global Pumps is the Australian importers of the Verderflex peristaltic hose pumps.