Learn how Global Pumps helped a local winery solve their tough challenge with Metaline applications.

The Challenge
Global Pumps recently worked with a local winery who were having issues with their protective coatings. The tanks in use had spray ball lids that were not UV stable and therefore degraded very quickly. They were badly pitted, had started splitting and needed to be stripped. The winery only got a measly 2 years out of their original coatings and were looking for a quick and reliable solution. Global Pumps was contacted by the winery for a solution because of their reliable and efficient products.
The Solution
Global Pumps suggested Metaline, a superior surface coating commonly used in mining, general industry, construction, recycling, and food hygiene. The coatings are UV stable, thus reducing the chance of discolouration and disintegration.
When applied, it reduces repair and maintenance costs and significantly extends product life. Metaline lasts up to 10 x longer than traditional rubber linings and are available for wet and dry use.
The Result
As a result of applying Metaline, the winery no longer changes their coatings regularly. This not only increases the efficiency but reduces downtime and conserves resources. The winery recently contacted Global Pumps for further application on their remaining spray ball lids based on the performance qualities.
The Metaline was applied at a 2 mm thickness and was fully cured within 24 hours, meaning the winery was able to get back to business with minimal downtime.
Global Pumps maintains contact with the winery and is thrilled to know that they are extremely satisfied with the outcome. The coating doesn't look like it's been used and still upholds superior quality.
The team at Global Pumps was happy to solve this tough challenge.
To learn more about Metaline, get in touch with us with our in-house expert today.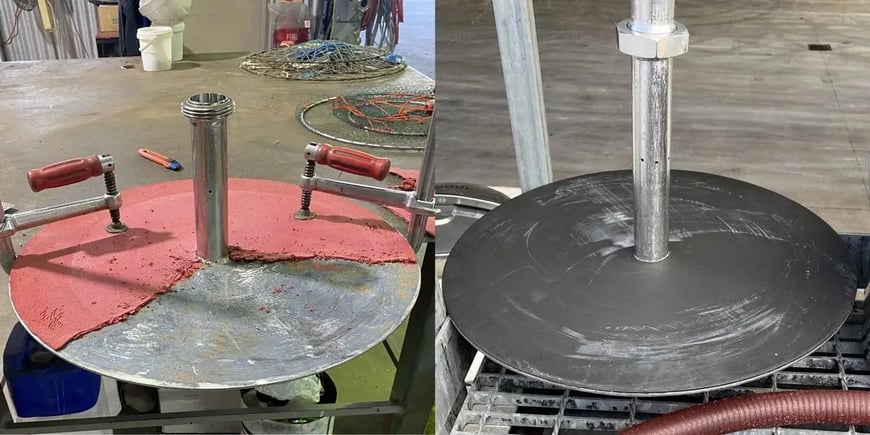 Before After