Learn how Global Pumps' engineering team solved a tough challenge for a client needing to mix and pump sodium bentonite within a limited working footprint. Ingenuity and local manufacturing to the rescue!

The application
Bentonite slurry is used for ground support in tunnelling applications. The client was able to find some systems built overseas but was looking to partner with a local manufacturer.
The challenge
The client came to us as they wanted to be able to effectively mix sodium bentonite powder into water and then maintain circulation to prevent settling. For bentonite to mix correctly it needs a special mixer and a certain velocity.

Bentonites are sheer thinning fluids, and the viscosity reduces when pumped. In this instance the actual viscosity was unknown, therefore some assumptions were made.

The client wanted to provide the mixer and have a local supplier fabricate a complete unit. A fixed motor and pump arrangement was organised and matched to the requirements of the specific mixer unit.
The solution

Easy! Have a bentonite slurry pump with an inbuilt centrifugal mixer.
In order to successfully blend the bentonite with water, it is important that we have the centrifugal mixing funnels inline. These are mounted under the hopper.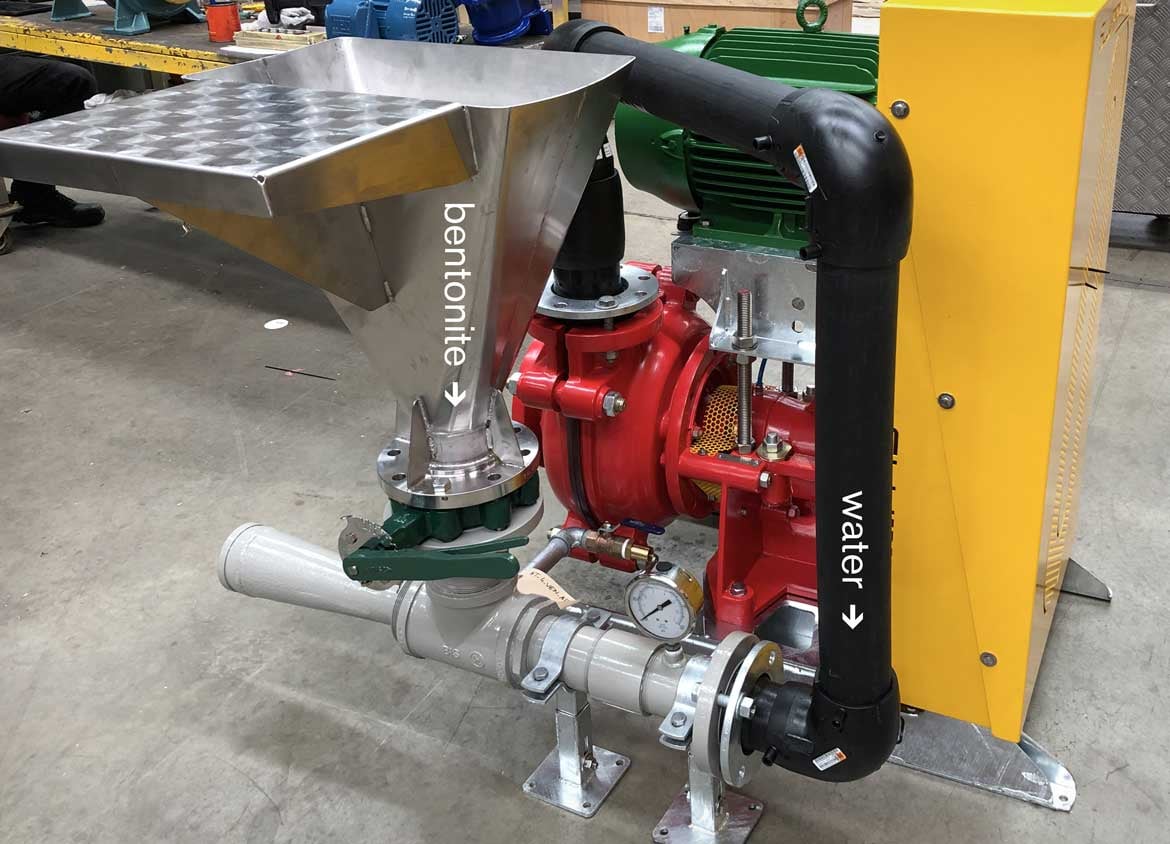 There was limited room where the pump needed to be located as part of their overall skid system, so we opted for an overhead configuration which dramatically reduced the footprint of the motor and pump assembly. To save space, the engineering team designed a rectangular shaped hopper with a small platform, which therefore allowed the client to rest 25 kg bags of sodium bentonite to assist dispensing.
Border closures between states was also a challenge, however this was overcome by supplying a conceptual model of the system and full client approval prior to manufacture.
Are you looking for a solution to a tough pumping challenge? Get in touch with Global Pumps. Our team are committed to finding the right solution for your tough challenge. Whether you're looking for a new system, or are wanting to optimise your current pumping system, give our consultants a call!