It's important that you handle dangerous liquids carefully to ensure the safety of your staff and the environment.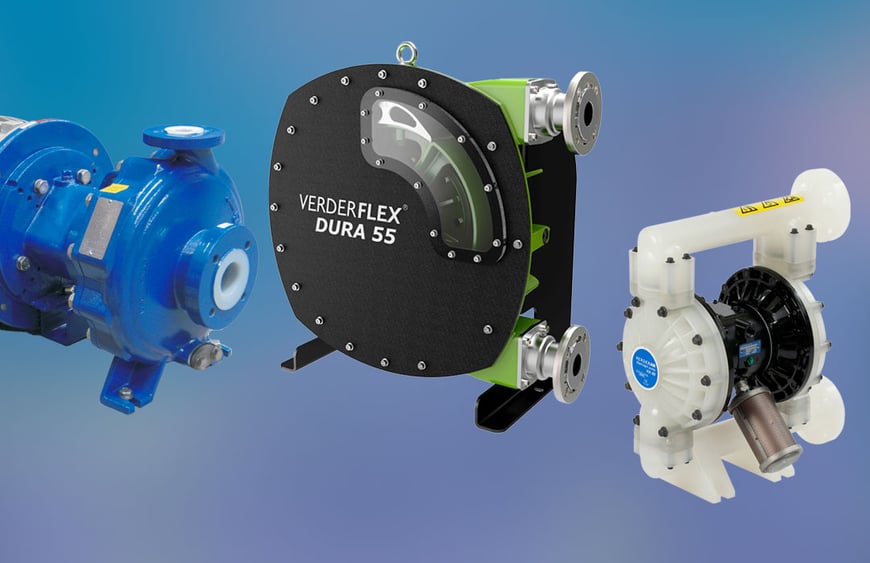 Chemicals are considered dangerous if they are toxic, highly corrosive or volatile. They can affect a person's health, influence our food chain (by introducing pesticides) and pollute the environment.
In industrial areas, these dangers place large responsibility on the staff, procedures and plant equipment to be safe and reliable.
Dangers of chemicals
Before looking to transfer dangerous liquids or chemicals, it's important that those responsible understand their risks.
Where would I use chemicals?
Chemicals are commonly found in production processes, such chemical processing, the pharmaceutical industry or the treatment of effluent. They are also commonly used to clean, treat or finish products, like pickling of metals or cleaning equipment for use in hygienic food processes.
How could chemicals harm me or my staff?
When inhaled, chemicals such as solvents, can affect the central nervous system and cause amnesia. Other chemicals, such as hydrochloric acid can cause harm to the eyes, tooth enamel and the respiratory system, causing long-term health implications.
Leak-free pumps – transferring of chemicals
The sealing system is one of the most critical aspects in the safe operation of a pump. Before pumping dangerous chemicals, it's important you understand the pumping principle and its limitations.
Rotating shaft-sealed pumps
Most shaft-sealed pumps require a sealing mechanism between the rotating shaft and the liquid being pumped. These include:
Rotary lobe pumps
Centrifugal pumps
Gear pumps
Vane pumps
Mechanical Seals
A mechanical seal provides a secure solution and is a common addition to process pumps compared to packed gland. It has the added benefit of spring-loaded tension, which creates a continuous sealing face with the process liquid - which acts as a lubricant and coolant between the seal faces.
The mag-drive solution to leak-free
The wetted parts of a mag-drive pump are usually constructed from stainless steel, plastic or metal lined with a polymer, such as ETFE. An effective lining provides chemical resistance against corrosive fluids, and strength and durability of a metal casing.
In magnetic drive pumps, the robust working principles reassures operators in the toughest of applications. Many chemical manufacturers who have ATEX rated zones, refineries or are in remote locations standardise the use of magnetic drive pumps due to their performance and reliability.
However, if the liquid is high in viscosity, greater than 200-250 cPs, or contains solids, magnetic drive pumps are not suitable. The fluid would not enter the flow path easily enough, and excessive loads will place pressure on bearings and magnet assemblies. Hard solids, like grit or sand, wear the pump quicker and can cause catastrophic failure.
Positive displacement pumps
Another effective solution for pumping hazardous chemicals is the peristaltic pump. When the chemical is highly abrasive, the peristaltic principle is ideal and safe; it effectively traps chemicals like lime slurry or fluids subject to off-gassing, in the hose.
The hose itself can be produced in a variety of rubber compounds, such as natural rubber, nitrile, EPDM and Hypalon. Peristaltic hose pumps are ideal for pumping solvents and other chemicals which are not compatible with rubber.
The life of the pump depends on the hose and over time the elasticity of the rubber hose will degrade, reducing suction capability and the flow rate. To avoid the risk of rupturing the hose, it's important you monitor for any damage. This can be monitored by fitting the hose with burst hose protection - which detects a build-up in pressure.
If the pump is left unattended, and the hose ruptures, the internal elements of the pump, including the casing, bearing, drive assembly and the gear box can be damaged beyond repair.
Air Operated Diaphragm Pumps
AOD pumps are constructed of metal or injection moulded plastics such as polypropylene or PVDF. These materials can handle most chemicals and solvents. If higher temperatures are required, moulded plastic pumps are limited to +90 oC.
Diaphragms can be made from different materials, however for chemicals and solvents, PTFE is required. These diaphragms are crucial in separating the pumping liquid from the air chamber.
If a diaphragm were to rupture, the liquid would pass the diaphragm and enter the air suction. If not made from a material, which is 100% chemically resistant, the air section would be attacked by the media.
Critical points for choosing a chemical pump
Before selecting a chemical pump consider the following critical points:
Correct pumping principal for the fluid's characteristics, system and frequency of operation
Leak-free operation
Chemical compatibility for all wetted parts
It's also crucial you select a pump that you and your staff (if applicable) can operate easily, safely and without the risk of spillage / leakage.
Global Pumps have worked with chemical pumps for over forty years. If you have any application-based questions or can't decide which pumping principle is right for you, chat to an expert. We can advise of best practise, offer a wide range of solutions for those hazardous chemicals and ensure your pumping process is safe and to standard.