When it comes to peristaltic hoses, there is an ongoing debate between OEM (Original Equipment Manufacturer) hoses and non-OEM hoses. While non-OEM peristaltic hoses offer cost savings and customisation options, there are compelling reasons why peristaltic hoses directly from the OEM are often considered the superior choice in various industries. Get ready to discover why Verderflex hoses outperform non-OEM hoses and how they excel in different applications.

Conquering the Mining Industry:
Verderflex hoses are incredibly durable and resistant to wear, making them ideal for the tough conditions of the mining industry. They can handle thick sludges and abrasive solids with ease, ensuring uninterrupted operations. On the other hand, non-OEM hoses struggle with the constant abrasion and often lead to disruptions.
Forever Identifiable:
When dealing with lower-cost third-party hoses, there's a common issue: the labels that help identify them often start coming off shortly after use. This can become a bit of a challenge when it's time to replace the hoses, as the team needs to figure out both the hose size and the material it's made of.
On the other hand, our Verderflex hose range takes a practical approach. We've made sure to print clear, bold labels right on the outside of the hose using noticeable colours. This way, you can quickly spot the size and specifications, making it incredibly easy to identify the right hose for a long time.
"

The Verderflex hoses from Global Pumps have made a huge difference in our delivery time. We now get our orders on the same day instead of waiting for months like we used to. These hoses are seriously impressive – they're top-notch quality and last way longer than our old ones. This has saved us a ton of money on spare parts and reduced the amount of labour and downtime we experience. It's been a game-changer for us.

"

- Maintenance Manager – North Queensland Copper producer
Trusted in the Chemical Industry:
Verderflex peristaltic hoses are reliable when it comes to transferring corrosive and hazardous liquids in the chemical industry. They are designed to withstand chemical attacks and prevent leaks and contamination. In chemical plants, Verderflex chemical resistant rubber hoses are trusted for their ability to handle demanding applications, while non-OEM hoses often fall short.
Versatility Across Industries:
Verderflex hoses are known for their versatility and can be used in a wide range of applications. From pharmaceuticals to water treatment, mining to chemical processing, these hoses adapt to different industries' needs. In pharmaceuticals, Verderflex hoses provide accurate dosing and metering for medication production. In water treatment facilities, they ensure reliable flow control for maintaining water quality. Non-OEM hoses cannot match the adaptability of Verderflex hoses, making them the preferred choice across industries.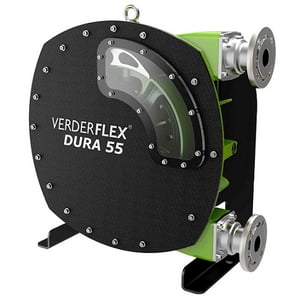 A clear example that highlights this comparison between choosing Verderflex OEM hoses or non-OEM hoses is a case study involving the largest copper producers in South Africa. For cost-saving purposes, the mining company opted to install a non-OEM hose in a Verder peristaltic pump. However, this decision proved to be detrimental as theproduction experienced failures, on average, at least three times per week. These frequent failures resulted in production stoppages, increased maintenance requirements, and a higher demand for manpower. It is crucial to emphasise that although non-OEM hoses may have a lower initial purchase cost, using hoses with incorrect dimensions or inferior construction often leads to frequent production problems in the long run. Read the case study here (Page:11).
In summary, this article highlights the superiority of Verderflex hoses over non-OEM counterparts. Their remarkable durability, unwavering reliability, and industry-tailored benefits position them as leaders. In mining, they expertly manage abrasive slurries; in the chemical sector, they enhance efficiency by handling corrosive fluids. Also, Their practical approach simplifies the identification of correct hose specifications. This adaptability solidifies their position as the top choice for demanding applications.
Our pump experts have over 40 years' experience as peristaltic hose suppliers, and know the importance of every pump component to the overall performance. If you are looking for a peristaltic pump or need help to make the best peristaltic hose pump manufacturer selection, contact our Global Pumps team.