The SlurryPro originated from a firm belief that all slurry pumping experiences could and should, be better. The SlurryPro series was introduced with a customer-centric focus and has seen the end-user experience revolutionised.

With so many slurry pump brands on the market, selecting a new pump can be a strenuous and confusing task. Many sites prefer to stick with existing equipment, afraid of what difficulties a switch could cause. Particularly, when service technicians have only ever maintained or repaired one variety.
But what if a change in slurry pump saw increased reliability, parts and production/uptime? What if you received immediate assistance from a team of pump specialists?
Built for harsh conditions
The SlurryPro series includes horizontal and vertical centrifugal slurry pumps, purpose-designed for use in heavy duty applications, such as mill discharge, process plant and tailings applications. These slurry pumps have also been installed in sand washing and recycling applications, where difficult washing and other abrasive processes take place.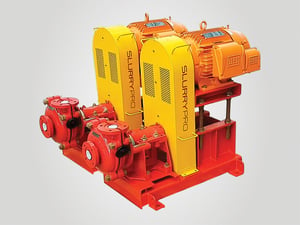 Horizontal SlurryPro
The horizontal construction is available in a variety of sizes and construction materials to suit a wide range of applications and harsh industries. Components are available in a variety of elastomer and hard metal materials, for maximum abrasion and corrosion resistance.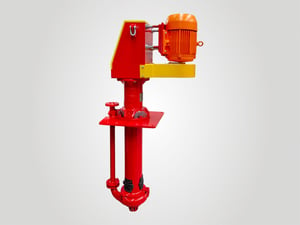 Vertical SlurryPro
The Vertical series offer a cantilever shaft design, which eliminates any bearings or seals in the fluid end. They are purpose-built for slurry washdown and spill duties. As with the horizontal SlurryPro design, there are a huge range of materials including complete elastomer lined pumps and hard metal options for corrosive and abrasive media duties.
Range of unique features
The SlurryPro has a range of features and accessories that are unique to the pump, including:
Universal motor mount, designed to suit many motor sizes
Automatic greasers guaranteeing regular lubrication, reducing downtime, extending asset life and minimising intervention
Lightweight perforated belt guard offering quick, easy and safe maintenance
The Global Pumps' Promise
Beyond the quality of the SlurryPro range, Global Pumps offers clients across Australia continuous after-sales support. With a dedicated Projects team, you can trust and rely on us to ensure your pumps are running efficiently and effectively.
Learn more
Global Pumps understand that reducing downtime and rapid response is critical in the optimum performance of mine sites. Next time you're contemplating a new slurry pump, or upgrading existing equipment get in touch with Global Pumps. With over 40 years' experience working with mineral processing industries, Global Pumps can help you find the most effective, long-term slurry pumping solution for your tough challenge.