Understanding the different parts that make up your pump allows you to implement effective and best-practice maintenance procedures.
In this blog, our team share their knowledge on bearings and how critical they are to the successful operation of your centrifugal pump. We answer your top questions, so check out these answers...

What are bearings?
Bearings are mechanical assemblies that consist of rolling elements, a cage and inner and outer races, which are used for rotating or linear shaft applications.
Bearings are a small part of your pumping system, but they play a critical role. This component bears the load of the pump and allows for the rotation. They must be properly lubricated, and the temperatures monitored, to prevent bearing failure.
What happens to the bearings while the pump is operating?
When your pump is running, the bearings are subjected to high axial loads, marginal lubrication and high operating temperatures and vibration. All the while, these bearings are attempting to minimise friction.
What are the different types of bearings?
There are a wide range of bearings suitable for centrifugal pumps, with different types chosen depending on the varying service conditions or the end-user's preference. Depending on the application, there are several different types of bearings, including ball or roller bearings, linear bearings as well as mounted versions that may use either rolling element bearings or plain bearings.
Depending on the type of pump you have, there are a number of bearings that may be suitable.
Roller bearings use a cylindrical shape roller between the moving parts to reduce the friction and support the radial and axial load.
Ball bearings use balls to support the movement of parts, although simple in design they are suitable for high speeds and are easy to maintain.
Babbitt bearings are a type of sleeve bearing that is coated in babbit metal - and are commonly used in motors, pumps, turbine generators and fans.
Sleeve bearings are suitable for high speeds. These bearings are ideal for radial loads only and are designed to float.
Pivot shoe bearings, also known as Tilt Shoe Bearings or Kingsbury Bearings, are suitable for axial load and are installed in high powered centrifugal pumps as a thrust bearing.
Angular contact bearings have inner and outer ring raceways which are displaced relative to each other in the direction of the bearing axis. These bearings are designed to accommodate loads.
How do bearings fail?
The most common cause of pump bearing failure is in fact not fatigue. Thrust bearings for centrifugal pumps can sometimes fail before the theoretical life specified by API or ANSI standards, due to the following:
Contamination: this occurs from three potential sources; fluids, metallic particles and dirt or dust. If the bearing is kept in its original packaging and is not exposed to the elements until installed, you reduce the chances of exposure to dust or dirt. Also, it is imperative that you do not contaminate the bearing while handling it by having dirty or greasy hands.
Inadequate or ineffective lubrication: proper lubrication of the bearing avoids direct metal to metal contact and reduces friction, abrasion, rust and corrosion as well as prolongs the service life. However, inadequate or ineffective lubrication can cause bearing failure and increase heat and friction generated. Most lubrication failures occur due to the wrong lubricant being used, too little or too much grease/oil and contamination of the grease/oil by objects or water.
Incorrect mounting or installation: during the mounting and installation it is crucial that operators avoid misalignment or shaft deflection, and are aware of radial internal clearance.
Operational stress and bearing selection: if the load becomes to high, overloading and early fatigue may follow. If the load is too low, skidding and improper loading of the rolling elements may occur. The first sign of these issues is generally unusual noises and/or increased temperatures.
Environmental influence: lubrication and installation failures will occur if the operating environment is not considered. These environmental influences can include:
dust and dirt contaminating the bearing

aggressive media or water

ambient operating temperature

current passage or electrolyte corrosion
Solutions for bearing longevity and performance
To ensure your pump's bearings are constantly and consistently lubricated, Intrax has created an innovative solution for automatic, accurate greasing. As a member of the Intrax Group, Global Pumps are thrilled to present the SlurryPro Automatic Lubricator. These automatic lubricators are a cost-effective solution, replacing manual lubrication for pumps and rotating equipment.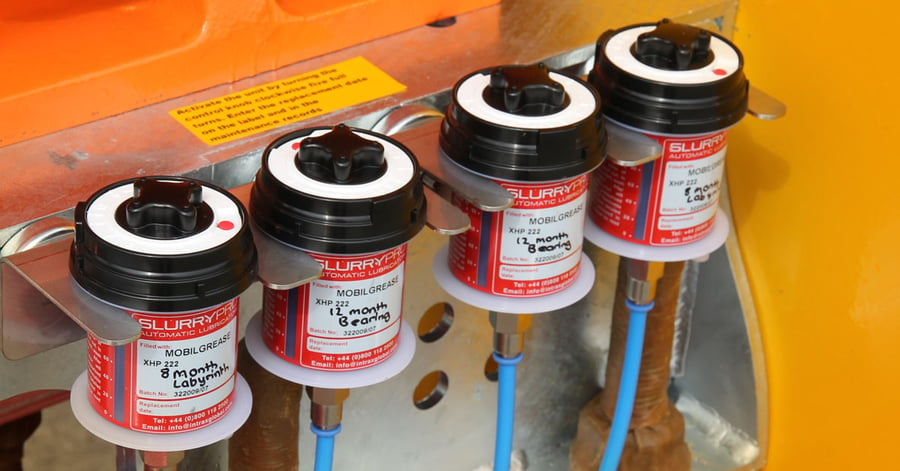 Installing automatic greasers ensures the ideal amount of greasing is dispersed to maintain optimum conditions for the pump's bearings.
Want to learn more about bearings, pumps or the range of SlurryPro Automatic Greasers? Get in touch with Global Pumps today! Our team are committed to ensuring the reliability, durability and longevity of your pump and its components.