Global Surface Protection, a subsidiary of Global Pumps, offers MetaLine coatings to provide high-quality protection, preservation, and reconstruction for components facing extreme wear and tear. Our MetaLine 700 series line features three separate products based on their hardness: 760, 785, and 795.

Mining operations, general industries, construction projects, recycling systems, and food hygiene processes are all suitable for this line. Therefore, choosing the right coatings will save you money in the long run by extending the life of your machine components.
MetaLine 760
MetaLine 760 is a soft, elastomeric coating product developed for customer-specific self-processing by spraying, casting, or injection. The hardness is approximately 60 Shore A.
It offers a lifetime after mixing of about 7 minutes and is therefore much slower when curing than the other MetaLine Series 700 types. Chemically seen, it is a polyether/polyester hybrid but still fully water resistant. Dispersion during spraying is not as fine as with 785/795. But in the end, it will level out to an absolutely smooth surface. The heating time is about 50 % shorter compared to 785/795.
The main field of application is rubber repairs!
In addition, it is suitable for coating rubber and metal components permanently to protect them from the most aggressive dynamic effects, including impact, shock, and wear and tear.
MetaLine 785
MetaLine 785 is a semi-soft, elastomeric coating that can be self-processed by spraying, casting, or injection.
It provides a hardness of 82 Shore A when sprayed and the lifetime after mixing is about 1 minute. It boasts perfect spray ability and dispersion, which allows it to be unrivaled when it comes to smoothness of the surface. Long and short nozzles are fine for processing. Market research indicates that MetaLine 785 is one of the most popular products on the market.
The main field of application is wear protective coatings.
Furthermore, it can be used to permanently repair or coat rubber and metal components against the most aggressive effects generated by impact, shock, and wear.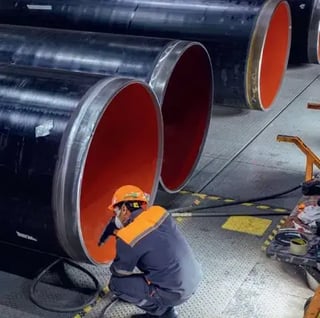 MetaLine 795
The MetaLine 795 elastomeric coating is suitable for spraying, casting or injection processing for customer-specific applications.
It has a hardness of 95 Shore A when sprayed, and its application parameters are identical to those of 785, so it has the same heating times, curing times, and spray abilities. Due to its increased hardness, it will develop slightly higher chemical resistance compared to softer durometers.
The main field of application are non-stick linings.
Similarly to the MetaLine 760 and 785, the MetaLine 795 is capable of repairing or coating rubber and metal components permanently to protect them against impact, shock, and wear and tear.
Comparative table between the three MetaLine products.
| | | | |
| --- | --- | --- | --- |
| | MetaLine 760 | MetaLine 785 | MetaLine 795 |
| Processing time | 7 minutes | 1 minute | 1 minute |
| Touch dry | 30 minutes | 5 minutes | 5 minutes |
| Mixer/Nozzle | 3/8# type only | 1/4# or 3/8# type | 1/4# or 3/8# type |
| Major use | surface cushioning, non-slip | fighting erosion, cavitation & wear | anti-corrosion, non-stick character, load release |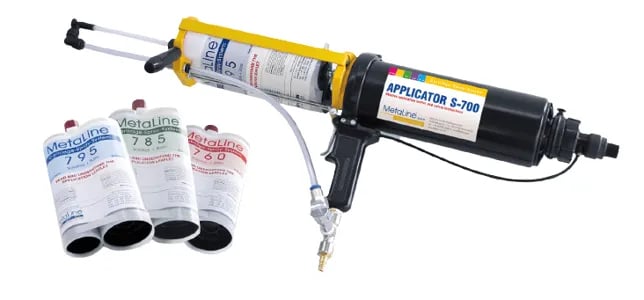 Metaline 795, 785 and 760 plus applicator S-700
All three products are solvent-free, non-toxic, and can be sprayed on using the MetaLine APPLICATOR S700, which adheres to most hard and elastic structures in an enduring, corrosion-resistant manner. As a result, it polymerizes within hours to a rubber-like material with exceptionally high resistance to erosion, corrosion, cavitation and structural loss for any of these products, as well as being easy-gliding and non-stick if you choose 795.
MetaLine is suitable for dry and wet applications, the surface is acting thermally and electrically insulating and may be processed by machining with temperature resistance amounts to a maximum of 120 °C with dry stressing and if your company needs Drug and food compliance according to FDA regulations, this is available as well.
Are you ready to take the first step towards protecting and preventing damage to your components, machinery, and products? With our expertise in the coating industry and a team of experts over the years, we can assist with your future coating requirements. Book a call with us.