Verderflex's new Rapide 5000 is now available from Global Pumps. The Rapide offers an advanced pump head with a simplistic single or three-phase powered industrial gearbox. It is ideal as a stand-alone single or double head pump or integrated into a system such as a printing press.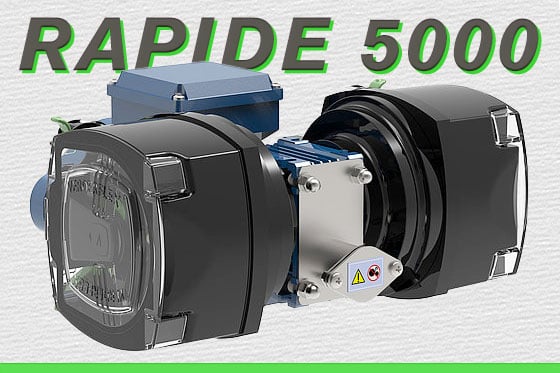 Above: The new Rapide 5000 available through Global Pumps
What makes the new Rapide 5000 unique?
Verderflex has added an innovative pump head - proven successful in dosing applications. This pump is particularly suitable for applications where a simpler pump design is required and no local controls, or where a plant does not need a costly, external air supply.
Much like other peristaltic hose pumps from Verderflex, the Rapide 5000 can run dry without damage. There are four standard speeds available, as well as 1 & 3 phase motor options, single and double head options with an optional external frequency converter.
Unique to the Rapide 5000 is the higher flow per revolution than other comparable peristaltic hose pumps. Less tube compressions for a given pumped liquid produces a longer tube life.
Suitable applications for the Rapide 5000 peristaltic hose pumps
The Rapide 5000 is suitable for the following applications:
Mining
Water treatment
Chemical
Paints and coatings
Textile
Ceramic
Paper and pulp
Food and beverage
Agriculture
Automotive and more
The Rapide 5000 offers a simple, reliable and cost-effective pumping solution for a range of industries. It is particularly suitable to dose and transfer liquids such as chemical additives, inks, paints and off-gassing liquids.
Chat to a Verderflex expert
Want to learn more about the new Rapide 5000? Global Pumps are Verderflex distributers in Australia and offer over 40 years' experience in peristaltic hose pumps.
Get in touch with our team of experts today for more information, or to see which peristaltic hose pump is right for your application!