Do you pump abrasives? If so, you would be aware they are one of the hardest fluids to work with.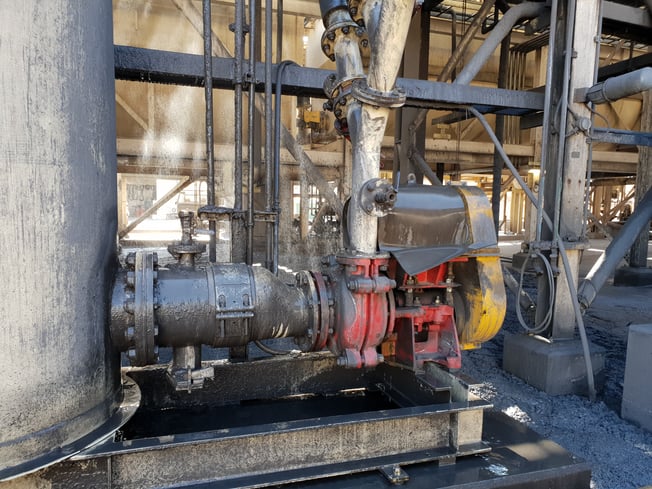 Above: SlurryPro pumping abrasive fluid at a mine site
It is incredibly common for them to build up around the packing gland on a pump, cause damage to the shaft and eventually failure to the bearings.
Our Global Pumps team have highlighted four key tips to preventing abrasive build up in your pump:
Use Teflon Packing: PTFE braided packing is chemically resistant and offers a low coefficient of friction when in contact with most surfaces. Due to these characteristics, it will avoid abrasive build up within your pump.
Flush through the lantern ring: Flushing through the packing area will stop abrasives from settling into the packing rings and setting. It can also assist in reducing the amount of torque required by the pump during operation.
Use a hardened shaft: As abrasives have a higher viscosity, and can be abrasive, hardened shafts can significantly extend the life of your pump and its casing.
Reduce the pressure by installing a 'suckback': A suckback is a hole drilled in the casing from the suction port to the area behind the rotor. It works to promote additional flow through the area by reducing the pressure. By installing one of these, it will reduce the pressure on the packing as you pump the abrasive.
You could also invest in a mechanical seal – however, it's advised you seek professional advice before purchasing. Mechanical seals are an investment, with reduced long-term operational expenses. However as with packing gland, pumping abrasives with a mechanical seal can have harsh consequences. As you pump abrasives, the risk of fluid setting between the stationary and rotating faces is high – and could result in damaged mechanical seal faces, the motor tripping or damage to the shaft/pump components.
Abrasives or also known as slurries are one of the most difficult fluids to pump in terms of selecting a long-lasting pump with low maintenance cycles– which is why it is crucial to consider these suggestions as you pump them.
For further professional advice on pumping abrasives, or to have one of our Global Pumps team members help you find the right solution, contact us!