Global Pumps is thrilled to introduce readers to our latest Expert Series. These interviews introduce the talented individuals behind leading pump brands and discusses the inception of some of Global Pumps' most popular and reputable pumping systems.
This week, our team sat down with Wim Rochtus, Verderair Product Manager. Wim is responsible for overseeing all aspects of the Verderair product line. He has worked with Air Operated Diaphragm pumps for over 30 years, of which 10 years have been with Verder.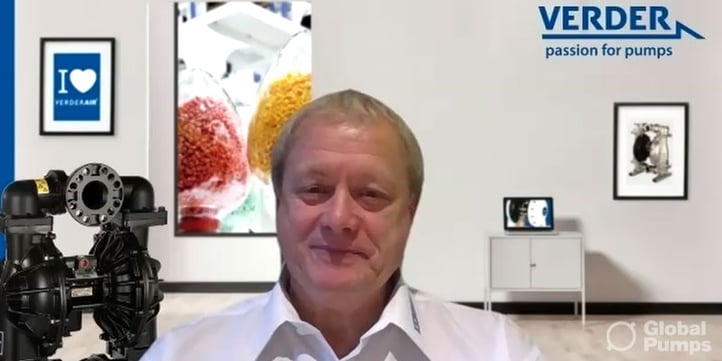 In our interview with Wim, he discussed the inception of the Verderair Air Operated Diaphragm Pump, the creation process from design through to manufacturer and how this AOD pump varies from competitors.
Check out the video below, or read the transcript to discover how Verderair's Air Operated Diaphragm Pump grew from a market-problem, to an innovative solution for multiple industries…
Q: How did you develop the technology of the Verderair Air Operated Diaphragm Pump? Can you also explain the creation process of new pumps?
Wim, Verderair Product Manager: It starts with an idea of course - and these ideas can come from anywhere. We have frequent meetings with Product Engineers and Marketing to identify pumping problems in the market, and how Verder could provide a solution. Once a viable solution has been found, we present a proposition to management.
If the proposition is approved, product engineers start developing the how, and the technology that will power this Verder solution.
Next, we move on to Sampling, which involves constructing the pump using 3D printing - making specific parts to test out. Sampling is followed by Prototyping and involves actual constructions of various versions of the AOD pump.
We make prototypes of the pumps, testing them out - and we do so through thorough testing practices in our laboratories. We test all aspects, including maximum capabilities. For example, if we say a pump can run continuously up to 100 oC, we will test it up to 100oC. This ensures the lifetime of the diaphragms are not compromised when they are running at higher temperatures.
Once we have approved these 'test' pumps, we contact some well-known customers in the area and start testing these pumps on-site, in real applications. Because testing in a laboratory always differs from testing in real-life. Verder does this with every pump during this Test phase.
After these pumps have been field-tested, we move on to the production - which is where our Marketing Team would come in. They produce all the collateral, such as manuals and pamphlets.
Sometimes it can take a long time to manufacture a new pump. The last pump we brought to market, took us around two and a half years to bring to market, from concept through to finished product.
Q: Where do you source your components and materials from?
Wim, Verderair Product Manager: We are trying more and more to make components ourselves, but of course we cannot do everything. We do not have the possibility to work in a foundry for metal parts - so for that reason we need to outsource, and we do this with well-recognised partners. And for economic reasons of course we need to make the pumps affordable for businesses. However, we would never downgrade the quality to be the most economical pump. For that reason, as well, we try to work with companies in our area (Europe). Most of our product components are coming from Europe or out of the United States.
If we source outside of these continents, it is generally for minor parts that are easy to control afterwards. The more challenging components are always made in a company that Verder has a close relationship with.
Q: What makes the Verderair Series of AOD pumps different from competitors?
Wim, Verderair Product Manager: Verderair is trying to keep up with the latest technology. Although an Air Operated Diaphragm Pumps is not rocket science and many believe that with each release, there is nothing new with these pumps - but that is not true.
Over the last few years one of the most crucial considerations of pumping equipment, or equipment in general, is energy consumption. Everyone is trying to reduce energy usage and CO2 exhaust, so Verderair are looking more and more at ways in which they can offer customers energy efficient pumping solutions.
Most importantly, Verderair want to have the most efficient pump on the market - and we are working towards this. We are trying to get there. With every update or change, we are working towards a more energy efficient pumping system.
What makes Verderair different is that we are implementing top technology and working to make the Verderair AOD pump as clean as possible.
The Verder Group is a family-owned business, established over 60 years ago in the Netherlands. Verder Liquids manufactures and distributes pumps through their own worldwide network, and have production facilities in Europe (Belgium, Italy, Poland, UK and Germany) which produce Verderflex, Verderair and Packo pumps. Continuous improvements to products ensures Verder's pumps remain state-of-the-art and innovative.
Global Pumps are proud distributers of the entire Verderair range of Air Operated Diaphragm pumps, as well as other Verder products.
If you want to learn more about the Verderair Air Operated Diaphragm Pump, get in touch with our team. With over forty-years' experience, our team can discuss how the Verderair AOD pump can enhance your operations.
*Please note, some of the transcript above has been edited slightly and may differ from the video dialogue.