Are you responsible for maintenance on a major mine site? Or maybe you're the lead engineer at a chemical plant? Whichever industry you're from, you might be responsible for selecting, installing, maintaining and repairing a variety of pumps.
Most organisation's request a few quotes to ensure competitive pricing. However, in most cases the cheapest pump is selected. Is this the right decision though?
In this blog, Global Pumps share some useful tips for selecting the right pump from multiple quotes. Whether they vary on price, lead-time or pump type - this blog will leave you with a clear indication of which quote is right for you.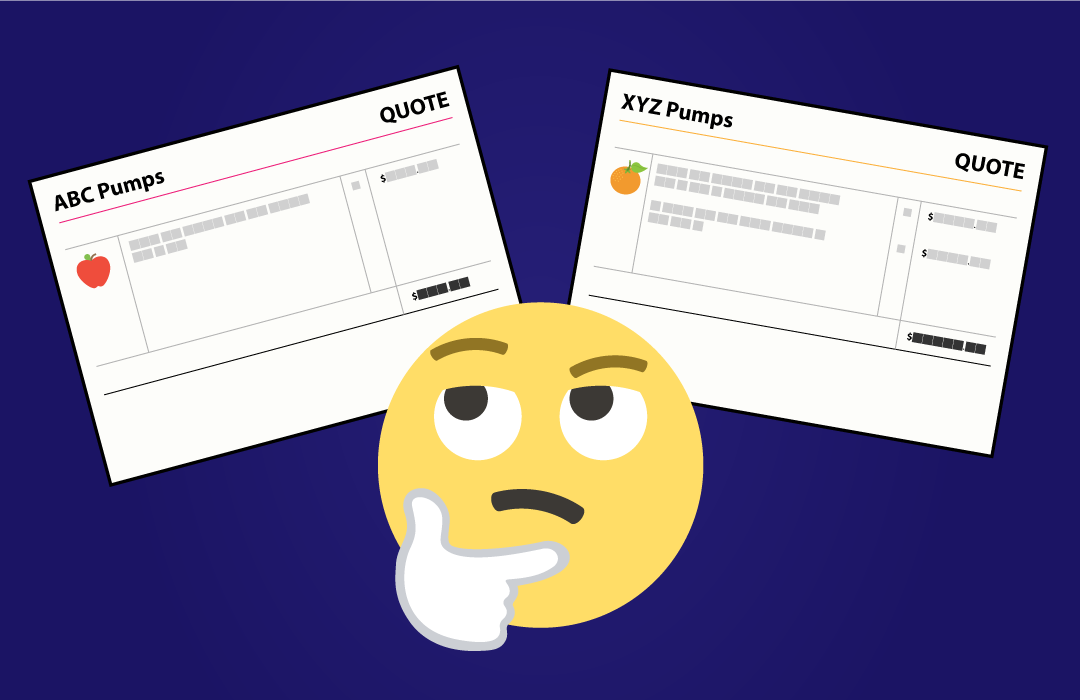 Apples and Apples, or Apples and Oranges?
It's important that you provide each pump company the same information; including flow rate, required head, fluid characteristics and application. This will ensure each quote is based off the same requirements and the quoted pumping systems can be compared.
Another element to consider is the life cycle cost of each proposed pumping system. Ask each pump selector what long-term costs are associated with their suggested system and compare these. Will the pump draw more energy? If it's a hose pump, how often will you need to change the hose given the nature of the fluid being pumped? Although initial cost may vary between pumping systems, one may offer less maintenance and longer performance.
Useful Tip: Ask the pump selector to provide you with the contact details of a similar company who has used their product/service. This will allow you to get real feedback from a consumer who isn't trying to sell you something.
Above your budget?
Did you ask for quotes and not discuss your budget? Many pump companies will select the best system they can provide for your specific application. If no budget is outlined in the initial consultation, the pump selector will have no indication of what you are happy to spend, or what your management will accept.
Useful Tip: If you have no concept of pumping systems and are not familiar with their costs, ask each selector in your first consultation for a ball-park figure. This will reduce the 'shock-factor' and provide you with an understanding of industry standard costs.
Cheap Quote, Cheap System?
The notion that the cheapest quote, generally means lesser quality, can ring true in some instances. It's important that you consider the country of origin of the pump. Is it from a reputable brand? Do they consider and prioritise reliability and durability?
These are important considerations to be made, particularly if spares and parts are sourced from overseas. Could there be delays in the future? How long is lead-time? When it comes to downtime on your site, having access to spares and parts is crucial to minimise production loss.
Useful Tip: Check if the pump company quoting your new system has a range of parts on-site. Many pump suppliers will house a range of genuine, aftermarket or retrofit parts suitable for their pumps and those of other manufacturers.
Useful Tip #2: During the quotation stage, ask for a spares kit to be added. This will ensure you have the required spares on-hand if a breakdown were to occur. It will also reduce the need to wait for extensive lead time if the pump parts are sourced from overseas.
After-sales service
Another important consideration is the after-sales service offered. Do those who are quoting you offer repairs? Will they come on-site and check the performance of the pump? Having access to pump experts post-purchase will ensure you rest easy knowing specialists are just a phone call away.
Useful Tip: Discuss with suppliers their workshop capabilities (if applicable). Do they have the capability to fully-service and repair your pump? If not, do they have recommended businesses or technicians? Having these answers early on will ensure if downtime occurs, you have the knowledge and accessibility to quickly fix and rectify any concerns.
It is important during the pump selection process that all considerations are made. Global Pumps cannot stress enough the importance of knowing the true costs of the pump, beyond initial cost. We discussed these in a recent blog 'How much does a pump really cost?'.
To discuss your application, or request a quote from Global Pumps, get in touch. We have over forty-years' experience, working with a wide range of industries, offering reliable and durable pumps. With a purpose-built workshop, and warehouse stocked with genuine, aftermarket and retrofit parts, you're in safe hands with Global Pumps.