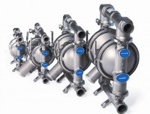 Verderair HI-CLEAN pumps handle a huge diversity of fluids, whether they are high or low viscosity, quick or low floating or to pump media with large solids.
The food and beverage industry is about to be revolutionised with the introduction of Verderair's HI-CLEAN hygienic and food grade diaphragm pumps. Designed to pump dairy products and basic ingredients such as fruit syrups and concentrates, this incredible range is set to make quite a mark.
What kind of features can you expect from the Verderair HI-CLEAN?
Ability to pump a huge range of liquids including high and low viscosity, quick, low floating or with solids, and temperatures between -40ºC and 135ºC
Equipped with an over-moulded diaphragm that has the longest lifespan on the market, and requires no extra sealing
DIN connection 11851 or Tri-Clamp for easy connection with rubber or metal hoses
Fully encapsulated air valve to ensure pump can be jet cleaned
Quick to disassemble for easy maintenance, repairs and general strip cleaning
Made to meet Food Contact Materials safety standards - EC 1935/2004 and FDA
Designed with a Cleaning-In-Place (CIP) and Sterilisation-In-Place (SIP) system
Capable of dry self-priming with no flooded installation required
Global Pumps is proud to be one of Australia's leading suppliers of diaphragm pumps, and will be adding this Verderair HI-CLEAN pump to our catalogue on its release. Find out more or enquire about the best product for your needs by contacting our expert team today!