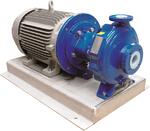 Global Pumps introduces a new range of pumps from Techniflo designed to withstand the challenges of pumping sulphuric acid.
Businesses within the chemical industry will understand the challenges that can come from needing to pump sulphuric acid. As it is a strong mineral acid that is highly corrosive, very stringent rules must be put in place for the handling and pumping of it.
Whether you're using sulphuric acid for lead-acid batteries in a vehicle, processing ore, refining oil, manufacturing fertiliser, processing wastewater, synthesising chemicals, or something similar, Techniflo is a chief brand for your pumping needs. Their TB-mag series pumps have assisted thousands of customers right around the world with pumping sulphuric acid up to 120 degree Celsius and 98% concentrated.
Techniflo ensures you don't have to concern yourself with leaky seals that cause damage to the environment and those handling the chemicals, thanks to their premium designs. Most of their sulphuric acid pumps are close-coupled, saving you money on coupling guards, mechanical coupling, precision alignment tools and bearing frames.
Basically, Techniflo's mag-driven pumps give you everything you need to effectively and safely pump sulphuric acid, in a way much more reliable and just as efficient as mechanically sealed pumps. You can even replace your existing sealed pump easily without having to change your motor size, wire gauge, or breakers, as they come with direct bolt-in replacement capabilities.
To understand the difference between mag drive pump Vs mechanical sealed pump, download the whitepaper below: