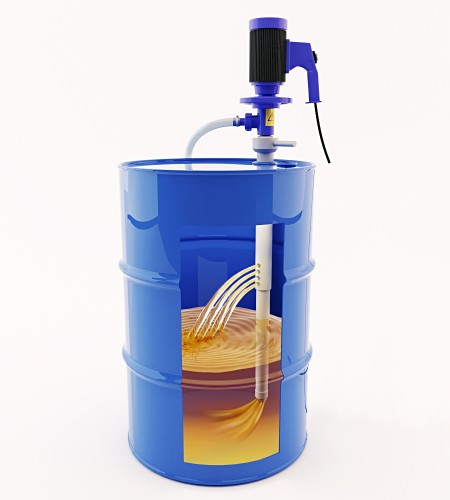 New Drum Pump that can mix the process fluid while pumping.
Global Pumps, Australia's leading pump supplier, carries a new pump in its lineup that can mix the process fluid while pumping. While traditional drum pumps can empty a container, this new model, manufactured by Techniflo, can be used in situations where it is necessary to both mix and pump at the same time.
These pumps are ideal for transferring emulsions, dispersions, or suspensions that have a tendency to separate. Available with a variety of air or electric motors to meet the varying needs of our customers, these mixing drum pumps are available with a tube shaft made from either polypropylene or stainless steel.
The polypropylene model is primarily used for aggressive fluids; for example, acids, alkalis and cleaning reagents, while the stainless steel model is designed for neutral, mildly corrosive or flammable materials. The variety of models and motors allows customers to select the right pump for their liquid transfer needs, whether it's a thin bodied or slightly viscous, corrosive or neutral liquid that needs pumping. There are also options that allow mixing/pumping in hazardous locations.
These pumps can be used in a "pump-only" mode or a "mix-pump" mode, selectable by a manual actuator. In the "mix-pump" mode, the flow rate, viscosity and density of the process fluid determines both the transfer rate of the fluid and the mixing intensity.
If you are interested in drum pumps in Australia, please contact Global Pumps for a quote or more information.