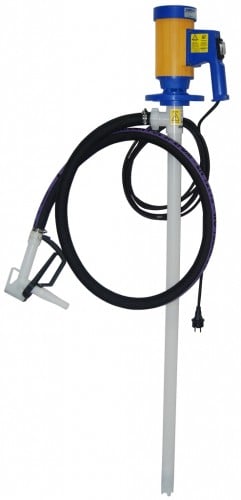 Are you pumping oil or soaps or even thick products that is hard to decant out of drums? The Techniflo eccentric screw drum pumps will pump viscous liquids up to 100,00mPas.
Global Pumps offers the Techniflo eccentric screw drum pumps for high viscous liquids. These universal, powerful and very portable pumps can be used for pumping from small containers, 200L drums, and right up to 1000L IBC's. Also available in longer pump lengths for larger containers/drums if needed. These revolutionary pumps will transform your decanting procedures and batching processes.
The drum pumps can be driven by air or electric motors. (240v motors and three phase motor options available) Techniflo motors are available with automatic safety provision to prevent inadvertent start up.
The Techniflo eccentric screw drum pumps are suitable for pumping liquids up to 100,000mPas with or without solids.


Some of the liquids could be:
Paint
Oil
Soaps
Jam
Glues
Sauces
Shampoo
Global Pumps is the Australian and New Zealand importer the Techniflo Drum Pumps and stocks a wide range of pumps and spares.