Verderflex high quality Industrial Peristaltic Hose Pumps are available from Global Pumps, in stock in Australia.
Verderflex peristaltic hose pumps reduce downtime, minimise maintenance costs and provide easy to operate and reliable solutions in difficult pumping situations. The only wearing part in a hose pump is the hose. This translates into low maintenance pumps. The process fluid does not come in contact with any of the pump's mechanical parts.
Verderflex hoses are designed to minimise the effect of fatigue, resulting in an extremely long hose service life. A high-tech manufacturing process ensures the maximum concentration and consistency of reinforcement fibres in the hose wall, the secret to the exceptional life of the Verderflex hose. These hoses can be retrofitted into other existing hose pumps and have been tried and proven to give substantially longer service life than competitor's hoses.
Verderflex peristaltic hose pump flows range from 2 l/hr to 50,000 l/hr with output hoses sized from 5mm to 125mm, claiming to be one of the biggest hose pumps in the world.
The Verderflex Dura series hose pumps are a close-couple design, which has all the benefits of the traditional long coupled pump, but with a 70% smaller environmental footprint. With substantially longer hose life, running cooler and using dramatically less power, the Dura is an extremely versatile and advanced peristaltic hose pump.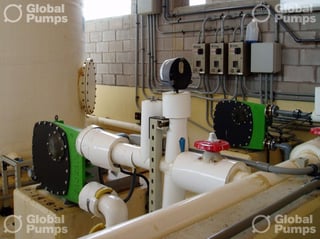 More information on the Dura peristaltic hose pumps
Industries/markets for Verderflex industrial peristaltic pumps:
Paints and coatings
Textile industry
Ceramic industry
Paper and pulp
Cosmetics
Recycling
Water management
Global Pumps, a leading provider for peristaltic hose pumps, is an Australian based company supplying pumps and pumping systems from around the globe.
Global Pumps deliver complete pump solutions across Australia, New Zealand, Indonesia and South East Asia, including a technical service division that performs onsite installations and servicing.
Contact us and talk to a pump expert today!