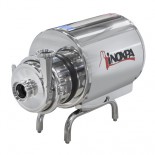 Inoxpa HYGINOX SE Stainless Steel Pumps from Global Pumps.
Hygiene focused manufacturing segments, such as the food and beverage, pharmaceutical and cosmetic industries can take advantage of the design features of the Hyginox SE centrifugal pump to provide not only the sanitary and hygienic characteristics that are mandated by industry regulators, but also the unparalleled quality provided to lower operating costs.
The Hyginox SE series of close-coupled centrifugal pumps are constructed with sanitation in mind. All internal components, including casings, impellers, seals, pump covers and motor shafts are made from cold-formed stainless steel.
Some of the accessories available for these pumps are stainless trollies, motor shrouds and controls.
Global Pumps stocks a complete range of Inoxpa pumps, please contact them for your pumping solution today.