Take the Virtual Tour of Global Group with Managing Director Kevin Seeley
Tip: This is a 360 degree virtual reality video - use your mouse or keyboard arrows to look around!
Having trouble viewing this video? Click here
Global Group, incorporating Global Pumps and Global Water, was founded in 1977, when our Managing Director Kevin Seeley began working in an office attached to his mother's home under the trading name All Pumps Supplies.
By collaborating closely with industry to understand their specific pump application requirements, Kevin identified the need for a versatile and service orientated specialist industrial pump supplier.
Kevin's service principle, which still guides us today, was to accurately assess each industry application and source the best possible solution without being limited to the brands or product ranges of any particular manufacturer.
Since that time, with his family by his side, Kevin has brought to industry an extensive range of world-class, innovative technologies in pumping and water treatment equipment.
With a strong focus on developing expertise and good old fashioned customer service, our highly skilled sales and engineering teams have become the most trusted advisors to our customers, providing expert technical advice for equipment selection and installation.
Global Pumps is now firmly established as a key supplier to industry, mining, government and municipal authorities, hydraulic and mechanical services, consulting engineers and civil contractors.
Kevin and his family would like to thank our staff and loyal customers for helping us to reach this milestone of 40 years of success.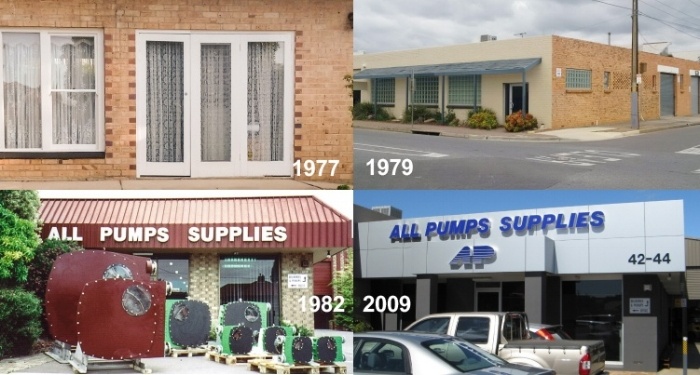 Global Pumps' business premises over 4 decades

Global Pumps head office 2017