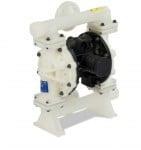 Preventing icing in an air operated diaphragm pump is a major issue all manufacturers have, but not with Verderair.
The new non-icing VA25 muffler is the best solution. Introduced by Verderair, the muffler prevents the failing of air operated double diaphragm pumps.
The most common problem with air operated double diaphragm pumps is the ice crystals that settle in the muffler of the pump. Verderair introduced the new VA25 muffler. This muffler prevents ice crystals from forming in the muffler. The problem of icing is common in especially in winter because the compressed air already has a very low temperature and the air humidity will condense and form ice crystals. These ice crystals block the exhaust pipe leading to loss of efficiency and eventually will lead to the failure of the pump.
According to the Production Manager at Verderair International, Wim Rochtus, "Many customers have chosen the new VA25 muffler. This is because it reduces downtime to zero almost besides, downtime is wasted time. It does not matter if the air is compressed and with high humidity." Using new design technology, Verderair has designed a completely new muffler that prevents icing. Performance tests over time have shown that downtime is reduced up to 30 times with the new muffler and bad conditioned compressed air!


This new amazing muffler includes:
An easy to install smaller muffler
ATEX environment suited
Uptime increased dramatically with reduction in ice crystals
The VA25 pump is much more reliable and efficient in comparison with its predecessors even when operated with poorly conditioned compressed air. The new mufflers come with all VA25 pumps and are made with conductive polypropylene.
Global Pumps are the Australian and New Zealand importer for the Verderair pumps.