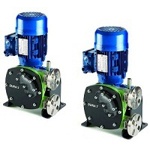 What are the benefits of these new dosing pumps?
The recently released Dura 5 and Dura 7 HPLV dosing pumps from Verderflex have caused quite a stir, with their many benefits making them a valuable addition to the industry. With a quick look at the specs it's easy to see what all the buzz is about; check out what you can enjoy below!


Mixture of high pressure and low volume dosing: in a way never seen before. The Dura 5 and Dura 7 are capable of 5 or 8 bar sub-litre per hour flows, using a rugged hose pump format
Abrasive-free: abrasion from lime chemicals or Kalkmilch is quite common, but not with the Dura 5 and 7 models. They've been designed with Verderflex's famous peristaltic pumps, which are known for their ability to pump lime without needing a valve, thus reducing abrasion
Less chemical usage: these same peristaltic pumps work to significantly reduce chemical usage, largely thanks to their gentle, low shear pumping action. Not only is this a better result for the environment, it cuts down on costs, too!
Better pumping of off gassing liquids: sodium hypochlorite is a chemical used to disinfect drinking water and prevent bacteria from contaminating food. When it is pumped, it turns into a gas which is locked in the diaphragm pump's chamber
Resistant to crystallisation: Another common problem of dosing pumps is the way reagents crystallise whenever the flow of chemicals is interrupted. This means the performance of the pump is significantly affected in a negative way. With the abrasive-free Dura 5 and Dura 7, though, crystallisation is a thing of the past!
Say goodbye to clogging costs: viscous liquids can take quite a toll on pumps, causing them to clog up and affect performance. The Dura 5 and Dura 7 have been designed with re-enforced hoses, with incredible suction power that ensures no clogging occurs. On the off chance that clogging does start to occur, the reversible function will be to the rescue!
Advanced dry priming: used to the standard 5 metre wet-primed lifts you usually get with diaphragm pumps? Try 9.5 metres with the Dura 5 or 7!
No need to re-tension tubes: save money and time thanks to the long life heavy duty hoses installed in the Dura 5 and 7 models, which never require re-tensioning
No dry running issues: the hoses used in the Dura 5 and Dura 7 are lubricated on the inside and outside to ensure dry running never occurs, including when facilitating lower flow rates
Impeccable liquid delivery: you don't need to worry about the performance of your dosing pump going downhill; the Dura 5 and 7 have been created to make sure they keep their accuracy and stable pressure for a long time to come
No ancillary equipment needed: say goodbye to all that extra ancillary equipment and hello to the brilliance of fixed occlusion rotors
Premium secondary containment: not only is the pumped liquid flowing through your Dura 5 of Dura 7 pump contained safely within the high pressure hose, it's protected further within a pump casing
Premium pumping of viscous liquids: capable of pumping up to 1000 CPS liquids and higher, thanks to re-enforced hoses
High margin of safety and secure clamping: you don't need to worry about your hoses bursting or crimping; the re-enforced hose and high pressure compression taper fit clamping system of the Dura 5 and 7 have a capacity of burst pressure higher than 80 bar (1150 PSI)
Simplistic maintenance: with other models, things get complicated by the liquid coming into contact with many different parts of the pump. The Dura 5 and 7 has been designed to avoid this, with only the easily detachable hose ever coming into contact with the pumped liquid
Simplistic user controls: Verderflex has stripped things back to basics with the incredibly easy to use user controls of the Dura 5 and Dura 7
Scalable performance: why improve on perfection? The Dura 5 and 7 come with the same casing and mounting frames that were perfected in the Dura 10 model
If you are interested in peristaltic hose pumps in Australia, please contact Global Pumps for a quote or more information.