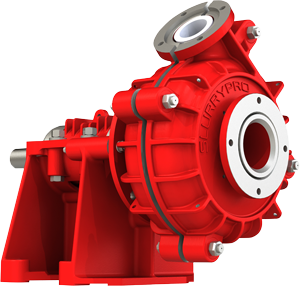 Global Pumps launched the new SlurryPro Super-duty Slurry pump at the AIMEX mining exhibition in August this year.
According to Global Pumps Sales Director Darren Seeley "The launch was a huge success and a welcome relief for the mining sector in Australia".
The result of years of research and customer feedback on prototypes, the new SlurryPro design is produced at our manufacturing plant in Argentina.
The premium Diamond Series pump range is a SUPER DUTY pump capable of standing up to the harshest applications, with a stronger reinforced casing, oversized shaft and a run-cool bearing housing. This series has a replaceable liner and impeller made of a specially formulated white iron alloy or a Unique Elastomeric Compound (known as UEC) and a range of sealing options are available including the high-tech, low maintenance, dual mechanical seal.


Technical specifications:
Max flow: 1500 m3/hr (standard pump)
Discharge head: 150 m
Max power: 450 hp (standard pump)
Building materials: Cast iron
Impeller and interior cladding of high chrome or natural rubber
Alternatives with elastomers special for high resistance to abrasion
SlurryPro offers a wide range of interchangeable replacement spare parts to suit most common brand slurry pumps. Contact us for a quote today!