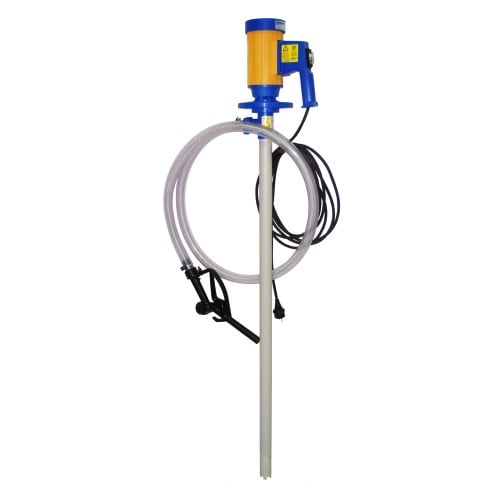 The next generation of Drum Pumps are now available at Global Pumps, these pumps are lightweight, portable and are built to the highest quality.
The next generation of lightweight and portable Drum Pumps have been released by Global Pumps and provide the ultimate solution for safely pumping hazardous substances and dangerous chemicals. These Drum Pumps feature a seal-less design to protect the operator from problematic mechanical seal failure.
Designed to safely transfer most volatile hydrocarbons, solvents, acids, alkalis, and many other aggressive liquids, the TP Techniflo Drum Pumps come in a wide variety of materials including polypropylene, PVDF, 316ss and aluminium construction, and can be fitted with either the highly efficient 240v electric or compressed air motors. In highly explosive areas, or when pumping flammable liquids, explosion-proof, ATEX-certified, electric or compressed air motors can be supplied, to ensure maximum safety to the operator.
Engineered in Germany to the highest level of quality, these pumps are built tough to handle with ease arduous applications in the mining, chemical manufacturing, water treatment and other heavy industrial sectors.
A full range of accessories such as trigger nozzles, hose, flow meters and grounding straps are available for immediate delivery.
The Techniflo Drum Pumps are a valuable investment and you can now be confidant of decanting your containers safely and efficiently.